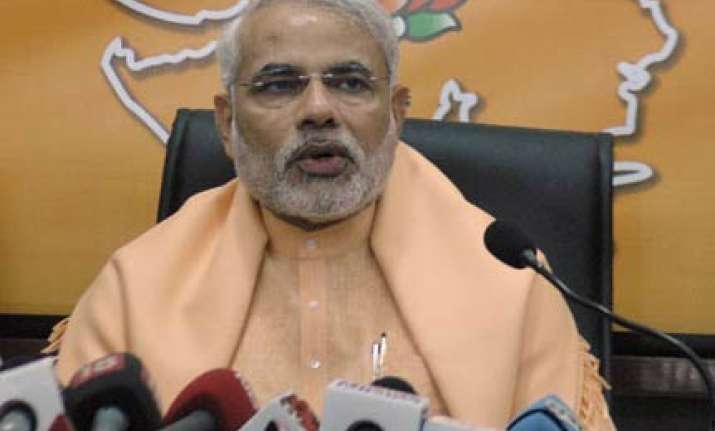 Ahmedabad, Oct 23 : Upbeat by the victory in polls to local bodies and panchayats, Gujarat Chief Minister Narendra Modi today accused the UPA government at the Centre of using all its probe and intelligence agencies against him and Gujarat.
"Congress is using all the investigation agencies and intelligence agencies like the RAW, NIA, CBI and IB against Gujarat and me," Modi told a rally here.
"Had the energy used by them against Gujarat for the last one and half years been directed towards Pakistan, half of the problem of terrorism would have been solved," Modi said, adding that he was saying this with full responsibility.
"You (Centre) have misused constitutional bodies, you have used all the ways of oppression but people of Gujarat have shown that they do not fear this kind of suppression," Modi said.
BJP had made the arrest of junior home minister and close aide of Modi Amit Shah by CBI in Sohrabuddin Sheikh fake encounter killing case as its core issue in campaigning for local body elections.
"I urge them (Congress ruled UPA government) that if they have taken this route to gain power in Gujarat they should leave it and fight in a democratic manner. If you have some problem with me, then come and talk to me," Modi said.
He said the local body elections have changed the mindset of many classes of the society that believed for the last 60 years that only Congress can ensure better future for them."Poor class of society has put their faith in BJP this time," Modi said.
Modi said the tribal belt of central and south Gujarat, where BJP has been facing defeat for the last 60 years, have also shown positive results for the party in these elections.PTI