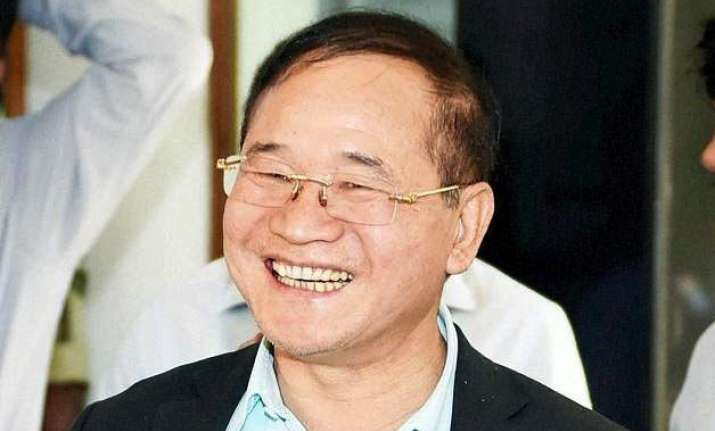 Itanagar: Arunachal Pradesh Chief Minister Nabam Tuki today said his government has urged the Centre several times to resolve the issue of stapled visa given by China to the people of the state.
While participating in a discussion initiated by Congress' Passang Dorjee Sona in Assembly on the issue, Tuki said the state government had on several occasions impressed upon the Centre to take up the issue with Beijing.
"We are Indian first and Arunachal Pradesh which, shares 1080 km border with China, is an integral part of India," Tuki said.
In 2008, China first issued stapled visa to the people of Arunachal Pradesh and Jammu and Kashmir, he said.
"In November 2009 the Centre issued an order that stapled visa is not valid," he said.
"The Centre has been maintaining strong opposition to stapled visa issued to state's young sportswomen last year for which they were deprived of their rights to participate in an international sporting event because they were not allowed to visit China," the chief minister said.
Earlier, raising the issue Sona urged the state government to move the Centre for allowing people from the state to visit China with stapled visa.
"When China is issuing stapled visa on Indian passport, why our officials and sportsmen are not allowed to visit the neighbouring country," he asked.
Stating that issuing visa is the prerogative of a country, Sona said by issuing stapled visa, China was showing a gesture.
Taking part in the discussion, opposition leader Tamiyo Taga of BJP said China had been using Arunachal as an issue for diplomatic bargain.
He said the state government should ask the Centre to resolve the issue which is detrimental for the state.
"The Centre is taking up to link China's Kunming province through the historic Stilwel Road via Myanmar. Our doors should be open for economic development," he said.
"It is better not to repeatedly raise China issue as we do not want to jeopardize the bilateral relationship between the two Asian giants," he said.
Participating in the discussion, Congress member Nyamar Karbak pointed out that during the visit of Chinese President to India, all people with Mongoloid feature were removed from hotels.
"We are not Tibetans. We should move the Centre jointly," he said.