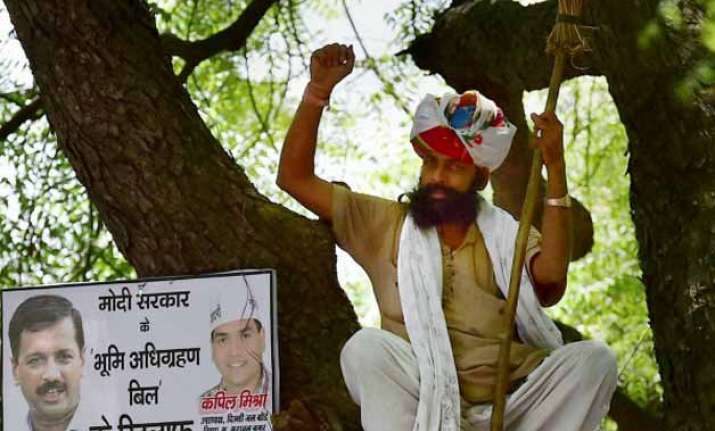 New Delhi: The Central government is likely to order a larger probe in Rajasthan farmer Gajendra Singh's alleged suicide at Aam Aadi Party (AAP) rally last week in Delhi. 
"People have raised doubts about farmer Gajendra Singh's suicide. His family wants an inquiry. So the Government of India will think about the next step after receiving the preliminary report of the Delhi Police inquiry. Nobody should politicise it, because if you try to do that, it will boomerang," Union Parliamentary Affairs Minister M Venkaiah Naidu said yesterday. 
The latest development came after reports suggested that Delhi Police submitted report of a preliminary inquiry into Gajendra's death case. 
The Union Minister further lashed out AAP for continuing rally after Gajendra's episode.
"You have already seen how the AAP unnecessarily criticises the Central government and now it itself has got caught into a controversy. AAP leaders continued their meeting even after the man lost his life. So please don't politicise this issue and let the truth come out," he said. 
He also ruled out any link between the suicide case and the amended Land Acquisition Bill.
"Suicide of Gajendra Singh has nothing to do with Land Acquisition Bill. Totally meaningless to attribute suicide to land acquisition act, government feels that act is in interest of farmers and poor people," he said.
Gajendra, a resident of Dausa in Rajasthan, hanged himself before more than a thousand people at a kisan rally called by AAP to protest NDA government's Land Acquisition Bill at Jantar Mantar.
The 43-year-old man, father-of-three, was politically ambitious. He had unsuccessfully contested 2008 and 2013 Rajasthan assembly elections as a Samajwadi Party candidate. After that, he wanted to join AAP.