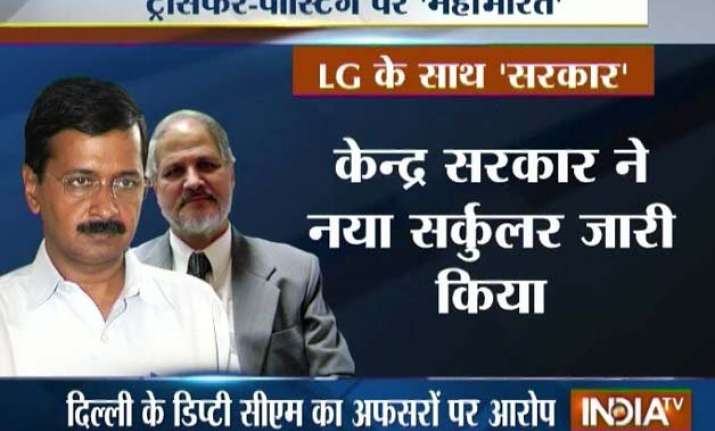 New Delhi: The Central government has issued a new notification authorising Lt Governor Najeeb Jung to access files on reserved subjects of police, public order and land before these are sent to the Chief Minister's Office.
The notification underlines the supremacy of Delhi L-G over matters relating to 'Public Order', 'Police', 'Land' & 'Services'.
The Ministry of Home Affairs (MHA) clarified that in matters like services, public order, including police and land, the Lt Governor is competent to issues orders.
The notification was issued to clarify distribution of power between the posts of Delhi's Lieutenant Governor and Chief Minister.
According to the notification, Lt Governor is not bound to consult Council of Ministers but may consult if he/she so desires.
The Lt Governor will now have powers on services, DANIP (Delhi, Nicobar and Andaman Islands Police Service) and administration, including work allocation of bureaucrats.
Yesterday evening, at least two rounds of consultation took place between the Prime Minister and Home Minister on the issue following which the notification was issued.
Senior bureaucrat Shakuntala Gamlin's appointment as acting Chief Secretary for Delhi last week had triggered a full-blown war between the ruling AAP and Lt Governor, with Chief Minister Arvind Kejriwal alleging that the Jung was trying to take over the administration.  
Reacting to the new notification of MHA, Deputy Chief Minister Manish Sisodia said that the notification is aimed at saving transfer posting industry.
Earlier this week, the AAP government in Delhi had directed all its officials to apprise the Chief Minister or Minister concerned about any oral or written direction from the LG or his office before following them. In a directive, the order signed by Kejriwal, said the bureaucrats including the Chief Secretary will have to first consult with the Chief Minister and other Ministers about any communication from the LG before acting on such directions.
 Delhi Deputy CM Manish Sisodia yesterday claimed that crores used to be made in the process of transferring and posting of bureaucrats before AAP govt assumed power. "There was a proper industry which was functioning here... crores were made in transfers and postings of officers. We have stopped this practice in last three months. This is why we are facing opposition from a few," he told reporters.