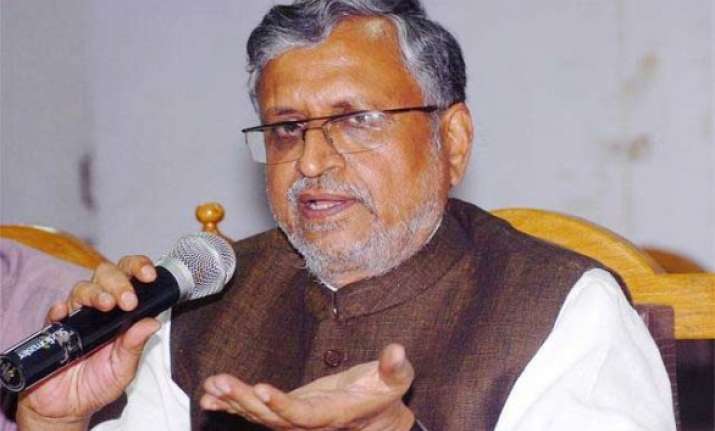 Patna: Senior BJP leader Sushil Kumar Modi today said the Centre was committed to release caste data under Socio-Economic Caste Census (SECC) after rectification of errors in the cases of 1.46 crore people.
"RJD president Lalu Prasad and Bihar Chief Minister Nitish Kumar are playing caste card to woo the OBCs voters in the coming Assembly polls, but they know fully well that there mare anomalies in compilation of the caste data under the SECC," Modi told reporters. Both the BJP and the Centre are committee to release the data after rectification of errors which were found in the statistics of 1.46 crore people across the country, including 1.75 lakh in Bihar, Modi said.
An expert group has been formed under the chairmanship of NITI Ayog Vice-Chairperson Arvind Panagariya for verification of those errors and compilation of socio-economic profile of the classified castes, he said.
Referring to the demand by Kumar and Prasad to release the caste census data, the former deputy chief minister held the two leaders, besides the Congress, responsible for plight of the backward castes, dalits and minorities in Bihar.
He said nothing concrete was done by the non-NDA governments which ruled the state for 27 years out in the past three decades and a half.
"If the backward castes, dalits and minorities still find themselves languishing in dire straits on parameters of socio-economic development, the Congress, RJD and JD(U) must collectively take the blame as they have ruled the state for 27 years out of past three decade and a half," he said.
RJD and JD(U) were trying to hide their own failure to cater to aspirations of these people whom they had milked electorally in successive polls, he said and asked,
"What happened to their thrust on development with social justice?" On the Chief Minister inaugurating a road overbridge here earlier in the day, Modi sought to take credit for this project as it was launched during the erstwhile NDA government in which BJP's Nandkishore Yadav was Road Construction Minister and he himself was finance minister.
"Kumar can take sole credit for any development and infrastructure projects initiated by his government post-split with the NDA in June 2013, but JD(U) government which survives on the crutches of the RJD and Congress, has none to show during its over two years' rule," Modi said.