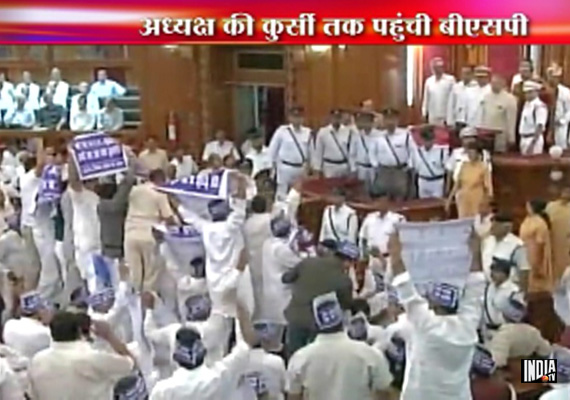 Lucknow, May 28: BSP legislators today stormed the well of UP legislative assembly on the first day of the budget session as Governor B L Joshi came to read his customary address.
The MLAs who had smuggled in banners and posters inside the House, suddenly flaunted them as the Governor began reading his address.  
The BSP legislators shouted slogans, stood up on the reporters' desk and threw paper missiles at the Governor.  
The Governor hurriedly read out two sentences from his address, and left the House with the marshals.  
Later, BSP leader Swami Prasad Maurya said, their protest was aimed at severe deterioration in the law and order situation in the state.  
"SP hooligans are indulging in loot, murder, snatchings and collections of ransom, and the police is a silent spectator. There is rampant corruption in wheat procurement and farmers in drought-hit Budelkhand are starving", said Maurya.  
His colleague former BSP minister Nasimuddin Siddiqui said, we wanted to show the "real face" of ruling SP before the people.  
Congress leader Rita Bahuguna Joshi condemned the protest saying that the Governor, being a Constitutional authority, should be given due respect.  
BJP leader Kalraj Mishra said, the manner in which BSP MLAs protested was "improper".