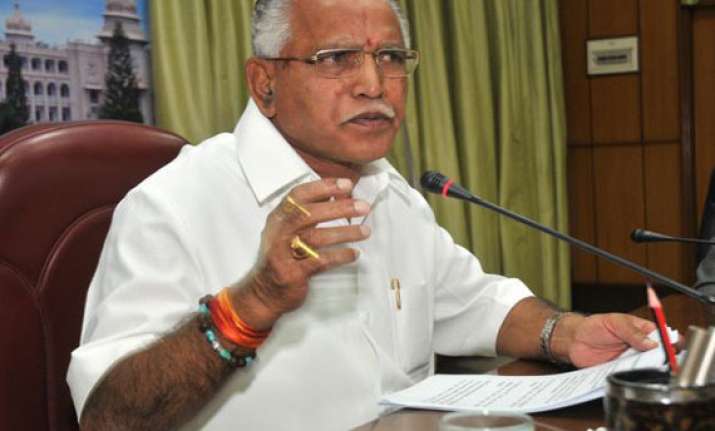 Bangalore, Nov 30: BJP leader and former Karnataka Chief Minister BS Yeddyurappa is all set to resign from the party and his assembly membership today, severing his 40-year-old association with it.
"I will go in a march along with my supporters to Vidhana Soudha (Assembly) at 12 noon and submit resignation to my assembly membership", Mr Yeddyurappa, who has rejected calls to remain in BJP, told reporters at Shikaripura, his home town in Shimoga district.
The 70-year-old Lingayat leader is credited with bringing BJP to power in Karnataka, making it as the first ever party government in the south.
Mr Yeddyurappa's exit is expected to put the BJP at a crossroads, but the party leaders have put up a brave face saying it will have no impact.
He asserted that he was firm on his resolve to launch his new regional party "Karnataka Janata Party" (KJP), which would formally come into existence on December 9 at Haveri.
"I have asked Ministers, MPs and MLAs not to attend the party launch. I want Chief Minister Jagadish Shettar led ministry to complete its term", Mr Yeddyurappa said in a bid to avoid any disciplinary action by BJP against his supporters.
Mr Yeddyurppa and his loyalists have been claiming that at least 50 legislators were keen on joining KJP.
All efforts by top BJP leadership including its President
Nitin Gadkari
and senior leader Arun Jaitley to prevent the "worst", failed to pacify the agitated Mr Yeddyurappa, who was axed from chief ministership in 2011 in the wake of allegations of corruption.
Mr Yeddyurappa turned more belligerent after BJP rebuffed his repeated attempts to regain chief ministership and refused to at least make him the state unit party chief. Enraged over what he called as 'betrayal' by his party leaders, Mr Yeddyurappa decided to bid a good bye to BJP and float his regional party.
Bookanakere Siddalingappa Yeddyurappa began his political stint when he was elected as president of the Shikaripura Taluk erstwhile Jana Sangha in 1972 and won his first assembly poll in 1983.