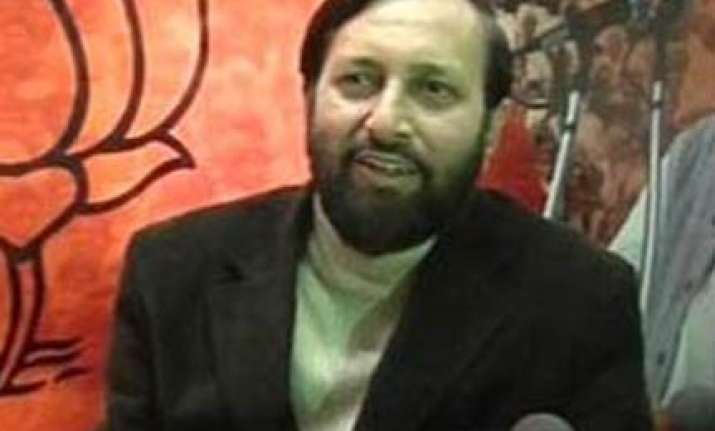 New Delhi, Nov 12 (PTI) BJP today asked Prime Minister Manmohan Singh to break his silence on the 2-G Spectrum scam and posed some questions to him while alleging that the government was shielding Telecom Minister A Raja in the scandal.
BJP spokesperson Prakash Javadekar alleged that the affidavit submitted by the government in Supreme Court on 2-G Spectrum allotment "is testimony of the abject and complete surrender of the Congress before its partner DMK for mere survival in office".
The principal opposition sought a clarification from the Prime Minister on the issue, asking if PMO had given its assent to 2-G Spectrum allotment without auction, "as is being suggested by DoT and A Raja".
"Every time when confronted, Raja stressed that he has sought guidance and permission from the Prime Minister at every stage. This casts heavy responsibility on the PM to clarify whether he has personally approved the procedure, which Raja was adopting," Javadekar said.
BJP alleged that "paralysis" on the part of Prime Minister to take action against Raja on the "worst scam" India has ever witnessed proves that he was also a partner in the decision.
BJP demanded immediate sacking of Raja and an explanation from the Prime Minister.
'Was the decision to allot 2-G Spectrum without auction taken by DoT or by the Cabinet. Is it not a fact that the PM was fully informed about the TRAI position on the issue and the fact that TRAI has never recommended 2-G Spectrum allotment without auction?" Javadekar said.
The main opposition also sought to know why the government went in for auctions in 3-G Spectrum allotment when it considers that 2-G allotment without auction was the right mode of allotment.
"The shameful justification of corruption in 2-G Spectrum allotment is the proof of a complete paralysis that has set in the government," Javadekar said.
He maintained that the NDA government had decided in 2003 itself that in future Spectrum will be allotted by auction only.