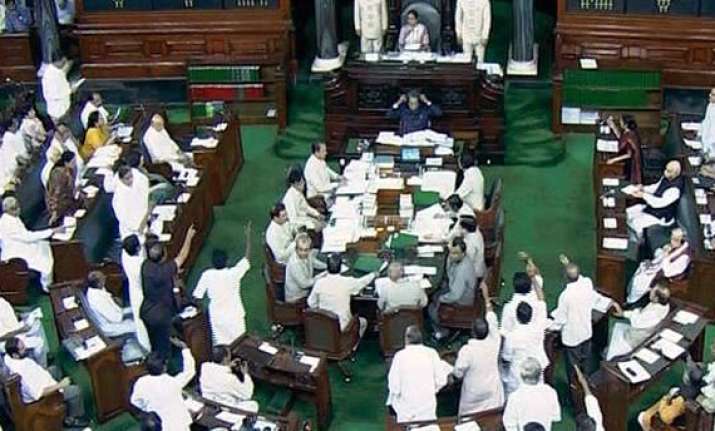 New Delhi: Both houses of parliament were adjourned till Thursday after being repeatedly disrupted over the BJP's demand for a statement by Prime Minister Manmohan Singh on the missing files related to the allocation of coal blocks.
As soon as the Lok Sabha assembled at 11 a.m. Tuesday, the price rise issue was raised by the Left parties and the Janata Dal-United (JD-U) forcing Speaker Meira Kumar to adjourn the house for half-an-hour.
When the house reassembled, Leader of Opposition Sushma Swaraj of the Bharatiya Janata Party (BJP) demanded a statement from the prime minister on the missing files relating to the coal blocks and alleged that the now untraceable documents carried names of Congress leaders.
"The prime minister should come in the house and clarify on the missing files. These files contain the names of Congress leaders involved and the decisions taken in the allocation of coal blocks," said Sushma Swaraj.
She urged Leader of the House and Home Minister Sushilkumar Shinde, who was back after two weeks after having undergone surgery, to bring the prime minister in the lower house.
The entire NDA, including BJP, JD-U and Shiv Sena members, protested on the issue and raised slogans against the government and there was complete chaos in the house even as the Communist Party of India-Marxist members continued to raise the issue of price rise and the Telugu Desam Party and Congress members protested against the decision to create Telangana.
As noisy scenes continued, the house was serially adjourned till noon, 1 p.m., 2 p.m. and later for the day.
Wednesday is a holiday on the occasion of Raksha Bandhan.
Earlier, Defence Minister A.K. Antony made a statement on the sinking of submarine INS Sindhurakshak.
Railway Minister Mallikarjun Kharge also tabled a statement on the train accident in Bihar in which 28 people were killed.
Three bills related to first national aviation university and the first national women's university besides one on a civil aviation authority were introduced.
The Rajya Sabha was also repeatedly disrupted and adjourned till 2.30 p.m. over the missing files linked to the coal blocks.
As soon as the house assembled at 11 a.m., members of the BJP raised the issue of the missing files.
BJP leader Ravi Shankar Prasad said the prime minister should make a statement on the issue. The house was first adjourned for 10 minutes on this issue.
When it met again, Coal Minister Sriprakash Jaiswal rose to make a statement following which BJP members disrupted the house again, forcing the chair to adjourn it till noon.
Jaiswal Saturday admitted that some files related to coal blocks allocations had gone missing.
The house was then adjourned till 2 p.m., 2.30 p.m. and finally till Thursday as opposition members sought details of the missing files.