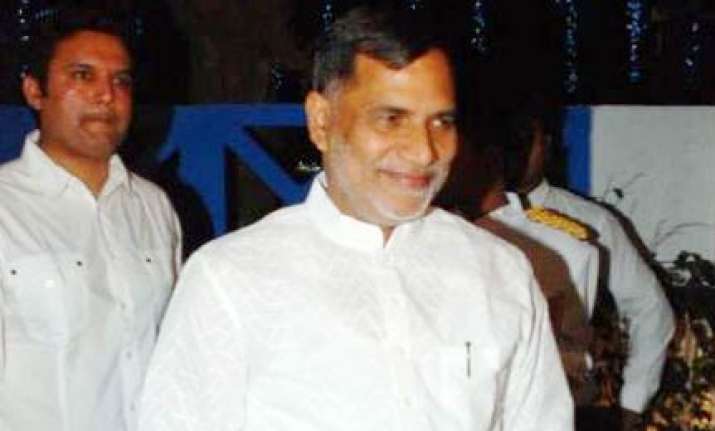 Mumbai, Oct 6: The Bombay High Court today asked various investigating agencies to submit reports on the status of probe into allegations of amassing unaccounted wealth by former Maharashtra Home Minister and Mumbai Congress chief Kripashankar Singh.
The direction came from Justice Ranjana Desai and Justice R V More who asked Director General of anti-Corruption Bureau, Directorate of Enforcement Directorate and Income Tax Commissioner to file reports in sealed covers by October 27.
"We want to know the status of investigations.....our direction is that by the next hearing you should submit the investigation report in a sealed cover," Justice Desai said.
The court was hearing a PIL filed by social worker Sanjay Tiwari, who alleged that Singh was closely linked to Madhu Koda scandal and that he has amassed huge wealth.
Petitioner's lawyer Mahesh Jethmalani argued that since the case had wider ramifications and different investigation agencies were involved, a Special Investigation Team (SIT) should be formed to carry out the probe.
However, Advocate General Ravi Kadam said that ACB is already conducting a probe into the matter and hence a formal SIT was not required to be formed in this matter.
Singh's lawyer said that the case was politically motivated to malign the image of his client and hence needs to be dismissed.
The court opined that it had sought detailed reports of investigation and will judge the issue on the next hearing.
The PIL alleged that the former chief minister of Jharkhand, Madhu Koda, who was sent to jail for his alleged involvement in a multi-crore hawala scam, was close to Singh, a Congress MLA, who thrived in his close proximity and a lot of money transactions took place between them.
The PIL said that Singh's son is married to Ankita, daughter of Kamlesh Singh, a minister in the Koda cabinet, also sent to jail in connection with the scam.
The petition alleged that certain diaries were recovered by the investigating team which reflect that Singh received large sums of money from Koda. Despite this, probe into Singh's financial affairs had not been done.
The PIL said Singh had stated in affidavits submitted for Maharashtra assembly elections in 2004 and 2009 that he had filed income tax returns for relevant asssessment years.
However, an RTI inquiry by the petitioner, Sanjay Tiwari, from Income Tax authorities revealed that he had not filed his returns for many years, the PIL claimed and enclosed IT letters in this regard.
The PIL alleged that Singh, Mumbai Congress chief, had not disclosed immovable properties worth crores of rupees held in his wife's name, in the affidavit filed before the election commission during 2009 assembly elections and annexed a list of such properties.
The PIL also wondered how Singh's wife got access to large amounts of money when she had no direct sources of income. There had been large number of forward trading in gold and silver worth crores of rupees in her name, the PIL alleged and said that losses were paid in cash and unsold stock not declared in affidavits.
Enclosing documents, the PIL alleged that certain unexplained cash deposits of Rs 1.17 crore with Samata Sahakari Bank were found in the account of Singh's wife.
It alleged that Singh and his family members had obtained more than two PAN cards from IT in violation of law.
The PIL alleged that Singh had used chartered flights often in the past and that large sums of money were paid for this purpose which needed to be investigated. The petitioner also alleged that Singh had not declared his wife's property details when he stood for elections in 2009.
The PIL contended that Singh's daughter Sunita has two ration cards and her husband Vijay Pratap Singh was a resident of UP and a government employee there till April 1997. It also said his son-in-law was alloted a flat in a joint name from CM s discretionary quota. "How did he get a domicile certificate?," the PIL questioned. PTI