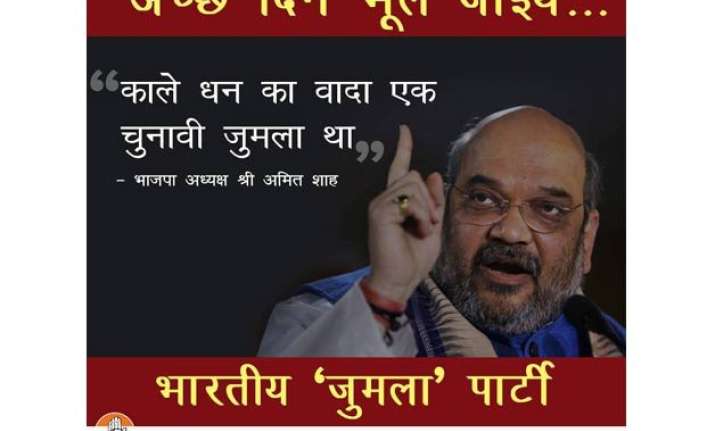 Bengaluru: Karnataka Unit of Youth Congress is protesting against the Modi government's failure to retrieve black money by mocking the ruling party as Bharatiya 'Jumla' Party and drawing cheques in its name for Rs 15 lakh purportedly signed by Narendra Modi.
The fake cheques are being used as means to show the falseness of claims made by Prime Minister Narendra Modi during his election campaigning that his party will retrieve the black money within 100 days and put Rs 15 lakh in the account of each citizen.
The word 'jumla' used in the name of the party refers to an earlier statement made by BJP president Amit Shah that Modi's promise of bringing back black money and putting it into the accounts of citizens was just a 'jumla' or a diplomatic phrase.
Karnataka's Youth Congress president Rizwan Arshad said, "Modi and the then BJP president Rajnath Singh, as well as the current president Amit Shah made statements to the people of this country stating that they will bring back black money and put Rs 15 lakh into the account of each citizen. We are showing them up on that promise."
The group has plans to distribute the fake cheques bearing squiggled signatures of the PM to the 330 members of the party who will participate in the BJP office-bearers meet and national executive here from Thursday.
Arshad said that the sole intent of the move is to spread awareness on the black money issue and to mock BJP over it.
The cheques are in English and Kannada, on saffron leaves, and bear the date as "within 100 days". The account number form which the cheques are to be drawn is 420420420420. There is a signature on the account holder's name – Narendra Modi which "is squiggled and not a forgery of the PM's signature", confirmed Arshad.
The Youth Congress, one of the most active across the country will be distributing 20 lakh such cheques to people across Karnataka.
They have plans to scale up the idea nation-wide if it succeeds in highlighting the shortcomings of the Modi government.
The group would take out a procession on Friday from their new office, the Congress Bhavan at race Course Road, up to the Hotel Lalit Ashok, where the BJP National Executive is to be held.
"If the police let some of us through, we will personally hand over the cheques to all the BJP leaders there, including the PM and Shah. Else we will give the cheques to the police and request them to hand them over to those present at the meet," Arshad added.