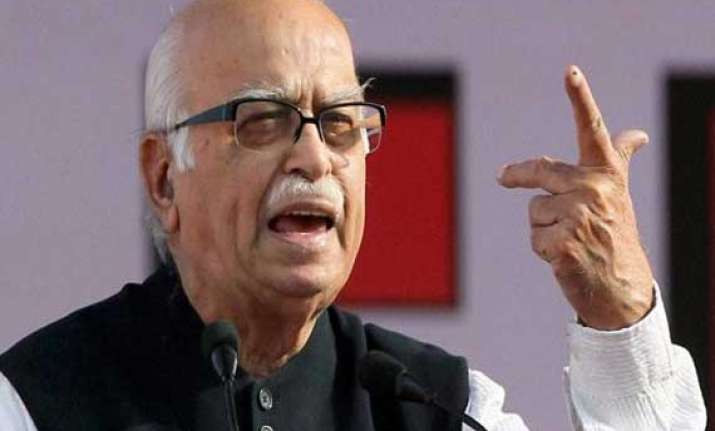 New Delhi: BJP today expressed satisfaction over the passage of the Telangana Bill in Lok Sabha but hit out at the government on the manner in which it was done accusing Congress of playing a "double game" on the issue.  Taking credit for supporting the government on the bill, the principal Opposition party said by doing so it has fulfilled its commitment for Telangana creation.  "It should not have been done in this manner... not by voice vote and head count and without a discussion," senior party leader L K Advani said.
Leader of Opposition in Lok Sabha Sushma Swaraj said, "We have supported the bill for creation of Telangana, but criticise the manner in which it was passed... Congress is playing a double game on the issue and wants to take credit in both the regions... It is a matter of great satisfaction that we have honoured our party's commitment on Telangana." BJP President Rajnath Singh said he is happy that the bill was passed but lamented the prevailing situation of chaos and outrage among people in other parts of the state could have been averted had Congress-led UPA brought this bill earlier.  
"The Congress should be squarely blamed for this confusion and chaos in Andhra Pradesh... The manner in which the bill was pushed through by the government was not transparent and utterly undemocratic," he said, adding that government should spell out concrete measures to address concerns of Seemandhra.  Swaraj said though some concerns of Seemandhra region have been addressed in the official amendments, some others remain.  
She said her party would move amendments on the bill when it is taken up in Rajya Sabha which include bringing a constitutional amendment on the issue of granting the law and order powers to the governor, an in-principle approval from Planning Commission on setting up new institutes in Seemandhra and converting the Polavaram project as a national project.  She also criticised the manner in which the live telecast during the passage of the Telangana Bill was blocked saying it was not a technical glitch but a "tactical" move.