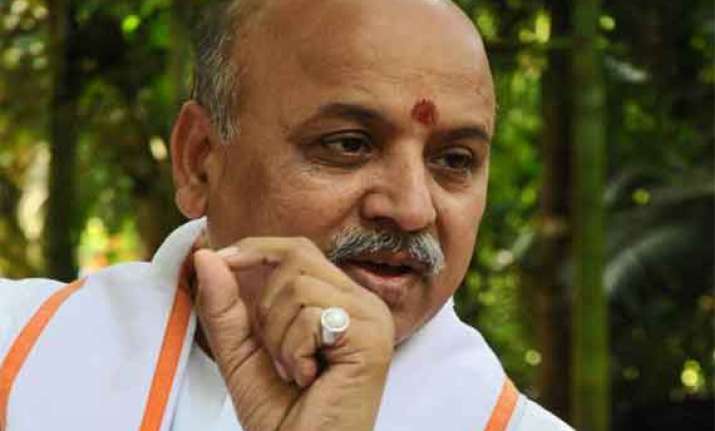 New Delhi: Both the BJP and the RSS Monday defended VHP president Pravin Togadia, saying he made no anti-Muslim comments. A day earlier news reports quoted him as saying that Muslims should be thrown out of Hindu areas.
"I talked to Togadiaji. He said he did not make such a statement," Bharatiya Janata Party (BJP) spokesperson Prakash Javadekar told news persons here.
He added the Vishwa Hindu Parishad leader said he would take "legal action" against the agencies for the report.
Rashtriya Swayamsevak Sangh (RSS) leader Ram Madhav echoed similar sentiments.
"Pravinbhai had not said anything that was attributed to him. It was a fabricated news. No Swayamsevak thinks on those lines," Madhav tweeted.
"No RSS member would ever force such views... We are one nation," he said.
According to news reports, Togadia, at a Saturday rally in Bhavnagar of Gujarat, said Muslims should be stopped from buying properties in Hindu areas.
Togadia joined a group of VHP and Bajrang Dal members Saturday night on a street protest outside a house purchased by a Muslim businessman near Meghani Circle in Bhavnagar.
While saffron groups have been regularly organising "Ram Dhun" and "Ram Darbar" programmes to thwart such deals, Togadia reportedly went a step further and asked the protestors to take complete control of the house and put a "Bajrang Dal" board on it.
The report said he gave the Muslim occupants 48 hours to vacate the house.
"If he does not relent, go with stones, tyres and tomatoes to his office. There is nothing wrong in it. Killers of Rajiv Gandhi have not been hanged ... there is nothing to fear and the case will go on," Togadia was quoted in the report as saying.