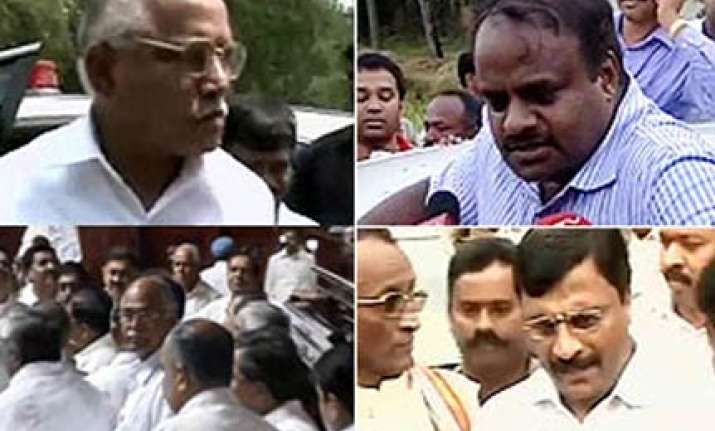 Bangalore No amount of cajoling or threatening seems to be working with Karnataka's dissident MLAs as all of them are still standing firm on their resolve to topple the B S Yeddyurappa government in the state.There are, however, reports that MLA and minister M P Renukacharya has left the dissident cluster which has been holed up in a south Goa hotel for the last two days.
But that is hardly any relief for the ruling government as another MLA, Shankar Kinge Gowda, has now been flown to Goa in a helicopter by Opposition JDS leader N Cheluvaraya Swamy on Saturday, reports Indian Express.
In another development BJP has released an audio CD where JDS leader H D Kumaraswamy is purportedly asking its MLA Appachu Ranjan to abstain from voting in the trust vote.The JDS leader is also purportedly seeking support of 20 to 22 rivals on the tape, even as he claimed to be sure of success, BJP said.
JDS leader M C Nanaiah has questioned the chief minister for keeping Renukacharya in the Cabinet – he holds the Excise portfolio – despite removing other rebel ministers and issuing anti-defection notices to him and 10 others.M P Renukacharya has, however, claimed that the BJP emissaries' talks with rebel Karnataka MLAs have failed.
There was a sharp retort from the rebels to this remark. BJP leader Belur Gopalakrishna said: "We are not children to be led away by force as Renukacharya claims. He has chosen to leave but the others are all together."
The rebels' strength is now 10. It is likely that they are going to be taken to a new destination. They are at the Goa airport now. The JDS has said that three more MLAs may join the rebels.H D Kumaraswamy says rebels will go to Bangalore or Kolkata. He says tickets are available for Kolkata but he prefers them (the rebels) to come to Bangalore.
Rebels are being escorted by JD(S) leaders Cheluvaraya Swamy and Zameer Ahmed. In the current strength of Assembly, BJP has 107 MLAs while JDS, Congress, Independents and rebels have a combined strength of 117 MLAs. Individually Congress has 73 MLAs, JD (S) has 28, and Independents and rebels have 6 and 10 MLAs each.
The dissident group want Yeddyurappa out as chief minister – he is 'dictatorial', they say – and also want a few ministerial berths since they were unhappy with the recent Cabinet expansion.
Though Yeddyurappa exudes confidence that all will return home, his body language has belied his words so far. He also made a quick trip to a Kerala temple to offer pujas. He has often visited this temple whenever he is in trouble, his detractors say.Earlier in the day, the BJP emissaries were given a deadline till Saturday to decide whether they want to continue with the Yeddyurappa government.
"The talks are positive. They have been given a deadline to convey about their support to the government," BJP MP, Sripad Naik, who is a member of the trouble-shooting team, has said.
Mr Naik said most of their demands, including re-allotting ministerial berths to three dropped ministers and Cabinet minister status to an Independent legislator, have been agreed upon."Now there are several minor issues which are being settled," he said.In all, 14 dissident legislators including nine BJP lawmakers are holed up in a five-star hotel in Benaulim village in South Goa, 50 kms away from Panaji.
BJP leaders are in talks with the dissidents for the last two days at the South Goa hotel, to defuse the crisis that has rattled the Yeddyurappa government in Karnataka.
Karnataka Tourism Minister G Janardhan Reddy and Leader of Opposition in Goa Assembly
Manohar Parrikar
are heading the team which held marathon meetings to troubleshoot the issues.According to BJP sources, once the crisis is over, Mr Parrikar and Mr. Naik will be accompanying the dissident legislators back to Karnataka.