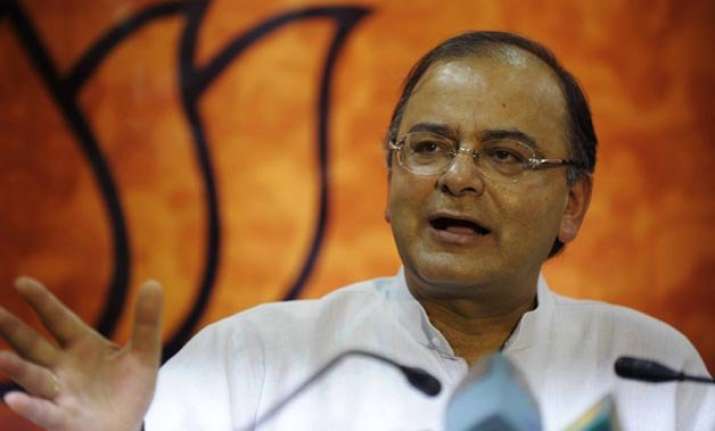 Patna: The BJP on Thursday promised to distribute free laptops to students, two-wheelers to girls and colour TVs to Dalits and Mahadalits in its poll manifesto which it said will eliminate Bihar's backwardness.
Union Finance Minister Arun Jaitley released Bharatiya Janata Party's poll manifesto - vision document - for the upcoming assembly elections. The party also promised to give dhotis and sarees if it won the polls.
Releasing the party's vision document, Jaitley slammed the Nitish-Kumar led 'Grand Alliance', saying it's time to end the "jungle raj" in Bihar.
Taking a potshot at the grand alliance of RJD, JD(U) and Congress in Bihar, Jaitley said they were running a "three-legged race" that cannot be won even as he warned voters of "anarchy" and "jungle raj" if the rival coalition came to power.
He also slammed Lalu Prasad for his attack on BJP over the reservation issue in the wake of RSS chief Mohan Bhagwat's call for a review of the quota policy.
"RJD knows it cannot win on the issue of development and that is why it is trying to divide society over other issues," alleged Jaitley.
"BJP's vision document is part of our plan to get Bihar rid of backwardness," Jaitley told reporters here. Other senior party members were also present at the event.
Bhupender Yadav, in charge of the party's affairs in Bihar, said: "Jaitley released the vision document a day ahead of Prime Minister Narendra Modi's rally in Banka."
He said the manifesto focuses on women and Dalits' empowerment, education, jobs for youth, and health and infrastructure development issues.
He said the BJP's main poll plank is development in Bihar and the document entails the party's vision for the state for the next five years if it wins.
Chief Minister Nitish Kumar, in his poll manifesto, spoke of a seven-point agenda to develop Bihar. This included free Wi-Fi in colleges and university campuses, a student credit card scheme for loans to pursue higher and professional education, and an unemployment allowance.
The manifesto also promised electricity and toilets in every home.
(With inputs from agencies)