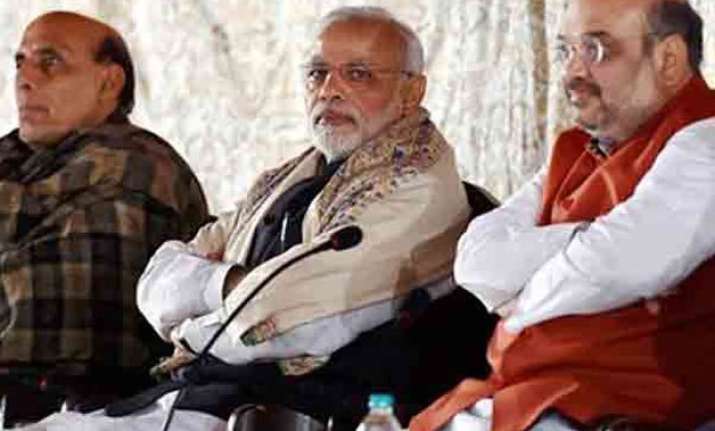 Lucknow: The BJP MPs from Uttar Pradesh have been asked by the top leadership of the party to stay in their constituencies and clear the ongoing "confusion" over the land acquisition bill during their Holi vacations.
The top brass have also instructed the MPs to meet the farmers of their respective constituencies who suffered loss of crop after the unseasonal rains.
The directions came when the Union Minister Uma Bharti and an MP from UP had already told the party leaders in a meeting on Tuesday that the government should not push the changes to the land acquisition act as the same could be seen as strongly 'anti-farmer' and can affect the future of party in the state.
The instructions came in a meeting of lawmakers from UP conducted at the residence of MoS for Agriculture Sanjeev Kumar Balyan (also MP from Muzaffarnagar).
It was attended by Prime Minister Narendra Modi, BJP president Amit Shah; Union ministers Rajnath Singh, Nitin Gadkari, Uma Bharti, party's UP president Laxmikant Bajpai and state general secretary (organization) Sunil Bansal.
A party MP from Kairana, Hukum Singh warned that the Bill was seen as party's "hypocrisy" as it did not object to it when it was proposed by the UPA regime.
He stressed on the Right to Fair Compensation and Transparency in Land Acquisition, Rehabilitation and Resettlement (Amendment) Bill, 2015 and cautioned the top brass to not to underestimate the voters.
On the other hand, Bharti told them to not to see BJP as "anti-farmer" especially at a time when farmers are in a crisis situation due to crop loss in unseasonal rains.
As published in a report by Indian Express, Shah, Rajnath and Gadkari, however, asked the MPs to support the bill as it would be "beneficial" for farmers and the country in the long term.
It is Iearnt that the home minister admitted that it could cause a momentary damage however; people will forget such issues in the long run.
The party leadership is also known to have briefed MPs that changes in the bill would help villages build hospitals, schools and similar other infrastructure and hence asked them to reach out to people and clear the misunderstanding.
The MoS, Balyan, denied any political significance of the meeting and told that there are no such plans for other states.
Prime Minister Narendra Modi joined the three-hour long dinner meeting towards its end however; none of the MPs have been known to raise any objections in front of him.