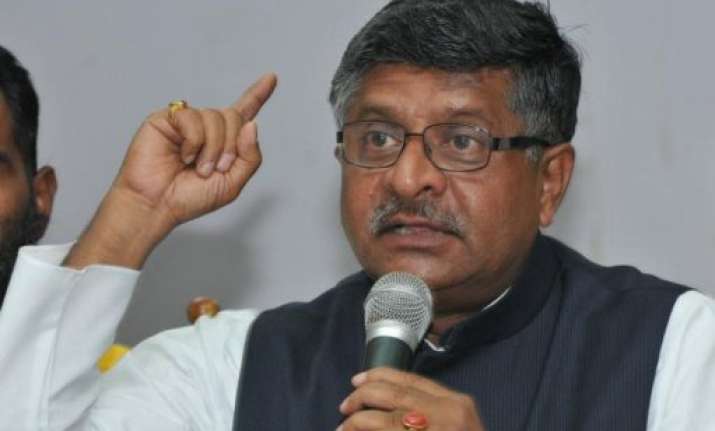 Pune: There is no change in the BJP policy supporting creation of smaller states for faster development and Prime Minister Narendra Modi's statement rejecting division of Maharashtra was in the context of Mumbai, Union Law Minister Ravishankar Prasad said today.
Asked whether Modi's remark in response to the Shiv Sena's allegation that BJP was planning to divide the state amounted to a shift in the party's stand supporting a separate Vidarbha, he told reporters here that the Prime Minister's statement should be seen in the context of Mumbai.
"Our stand in support of creation of smaller states has not changed. Modi's statement was made in the context of Mumbai (being integral part of Maharashtra)," Prasad said.
While BJP is supportive of carving out of a separate state of Vidarbha from Maharashtra, its estranged ally Shiv Sena has vehemently opposed the idea.
The Sena, Maharashtra Navnirman Sena and Congress have also accused the Modi government of having plans to separate the country's financial capital from Maharashtra.
Joining the issue of Chhatrapati Shivaji's legacy being raised by anti-BJP parties, he said "It was during the tenure of former Prime Minister Atal Bihari Vajpayee that Mumbai airport was named after Chhatrapati Shivaji. The Vajpayee government also issued a coin in honour of King Shivaji."
The BJP leader said the erstwhile Congress-NCP government's promise of building an imposing sea memorial of the 17th century Maratha warrior was yet to materialise.
He declined to react to anti-BJP comments being made by Shiv Sena in the ongoing campaign for the ensuing Assembly polls "out of respect for the late Bal Thackeray".
Evading a question on possible post-poll pact with the Sena to form a government, Prasad said BJP was confident of getting a majority in the October 15 elections.
Asked about MNS chief Raj Thackeray's accusation that Modi was "obsessed with Gujarat", he said "Modi is Prime Minister of India elected by people with a massive mandate."
Prasad said he would table a Bill in the next session of Parliament seeking to repeal about 500 outdated laws.
Asked about the controversial land deal in Haryana involving Robert Vadra, Congress chief Sonia Gandhi's son-in-law, Prasad said if came to power in that State, the BJP government would take an "objective view" of the transaction.
The former Information and Broadcasting Minister said Doordarshan telecast the Dussehra speech of RSS chief Mohan Bhagwat because of its "news value".