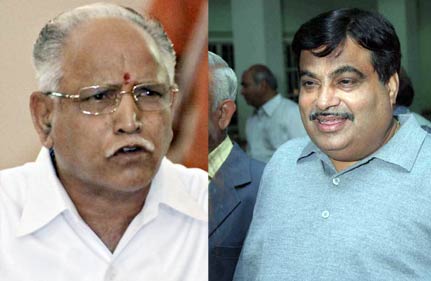 New Delhi, Nov 23: BJP central leadership today toyed with the idea of giving more time to defiant Karnataka Chief Minister B S Yeddyurappa, who refused to quit in the wake of the charge of nepotism in land allotment, amid fears that any change of guard before panchayat elections in the state may affect the party's prospects.
"He may get time at best till the panchayat elections get over. We have not yet arrived at any final decision. Yeddyurappa has a good support base in rural Karnataka where the Lingayat voters support him," a senior BJP leader said.
Yeddyurappa belongs to the Lingayat community which constitutes 19 per cent of the electorate in Karnataka. In some parts of the state, even the Brahmins support the Lingayat. The community has supported BJP for the last few years.
Saints from some religious sects have already come out openly in support of Yeddyurappa, making the central leadership of BJP wary of any hasty decision.
The majority of the BJP leadership seems to be of the opinion that Yeddyurappa should quit as his continuance in office is affecting the party's image and taking the force out of its attack on the government in Parliament on the issue of corruption in 2-G Spectrum allocation, Adarsh Housing Society and Commonwealth Games.
However, removing Yeddyurappa unceremoniously and at this juncture would antagonise the Lingayat voters ahead of the panchayat polls in the state, a scenario not acceptable to BJP.
"We are trying to convince him to step down. However, he may be given some more time due to the local bodies elections. The choice of his successor is another issue which needs to be sorted out amicably," a BJP MP said.
Meanwhile, some BJP MPs from the state sympathetic to Yeddyurappa met senior leaders L K Advani and
Sushma Swaraj
to plead his case and suggest that he should continue.
These MPs are of the opinion that Yeddyurappa is a good counter to Vokkaliga voters who seem to be closer to JD(S). They also suggested that the party's central leadership should not take a decision sitting in Delhi and send an observer to the state to get a feel of the ground situation.
Advani reportedly told them that the central leadership has now authorised party President
Nitin Gadkari
to deal with the issue.
Senior leader
Arun Jaitley
and M Venkaiah Naidu held discussions with Yeddyurappa today morning to solve the crisis. Though Yeddyurappa has maintained in public that he will abide by the party decision, he also insisted that he has the support of 110-120 MLAs. PTI