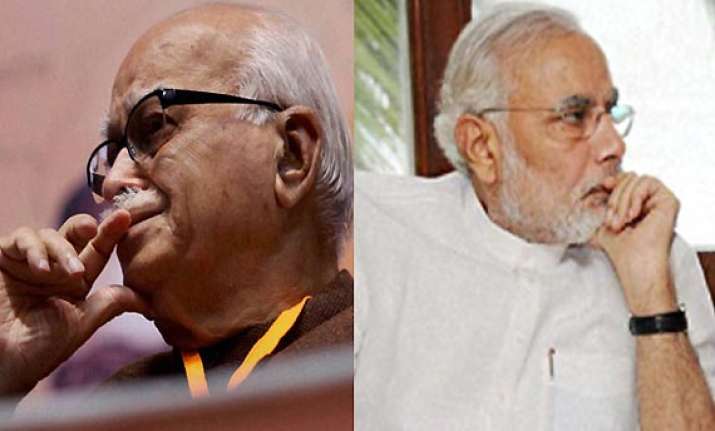 New Delhi: The BJP Sunday asked party cadres to put in their best to fulfil its "Mission 272+" or its aim of getting more than 272 Lok Sabha seats in the next general elections to form a government on its own.
Addressing a meeting of the party's election campaign committee here, Bharatiya Janata Party president Rajnath Singh asked the cadre to make the mission a success and work towards winning assembly elections to four big states later this year.
Gujarat Chief Minister Narendra Modi, who is chief of BJP's campaign committee for 2014 elections and party's possible prime ministerial candidate, said that comprehensive victory can be achieved through detailed planning and proper implementation of decisions.
"All out effort should be made to take all sections of society with the party and strengthen the organization in the next 200 days," Modi said.
He called upon panels set up to deal with election work to work with more speed.
According to a party release, Modi "guided the deliberations about effective campaigning and urgency to reach out to each voter".
Modi told the gathering that people were eager to throw Congress out at the first available opportunity, it said.
In his speech, Rajnath Singh said the mood of people was favourable for BJP and the party can win the four assembly polls and realise its target of getting majority on its own in the Lok Sabha polls by winning over 272 seats.
"The mood of the nation reflects this mission as an achievable target," he said.
Rajnath Singh attacked Prime Minister Manmohan Singh for "failing to manage the economy" and said it had resulted in more and more hardships to people.
He said people were suffering due to price rise and the continuous depreciation of rupee reflected inability of the government to improve the economy.
Rajnath Singh termed prime minister's Independence Day speech as "uninspiring" and said it had further eroded the confidence of domestic as well as international investors.
"The decision to introduce capital control is a regressive method and will further hurt the economy," he said.
He also accused the Congress of being interested "only in political security for itself" and "not in economic, internal and external security of the country".
The meeting was attended by senior leaders including L.K. Advani, Sushma Swaraj and Arun Jaitley.
Party leaders said that the campaign committee will decide schedule for mass rallies and constituency-level congregations and finalise programmes to reach out to every household.
Elections would be held to Delhi, Chhattisgarh, Madhya Pradesh, Rajasthan and Mizoram before the end of this year.
BJP is in power in Chhattisgarh and Madhya Pradesh and is the main opposition in Rajasthan and Delhi.