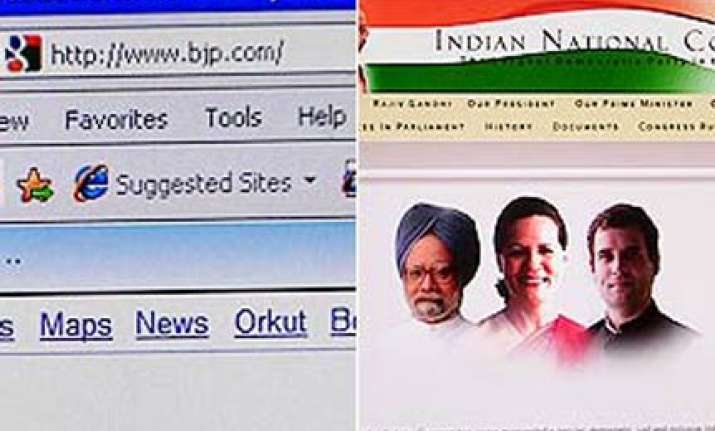 New Delhi, Oct 3 : Accusing the Congress of "petty, pickpocket-like theft" of its online identity, the BJP has slapped a legal notice on the ruling party claiming that a surreptitiously created website with a similar domain name was diverting users to the AICC website.
 BJP spokesperson Nirmala Sitaraman told reporters today that the legal notice was served on the Congress on September 27, but there had been no official response from it.  She said a website www.bjp.com had come to its notice recently and when the site was opened, it diverted the user to the AICC website automatically.
"The BJP sent a legal notice to the Congress on a matter of petty theft...a theft so low...of its political rival's identity. A pickpocket-like theft. But the ruling party has not yet responded to it officially," Sitaraman said here.  "Political parties, when they registered as websites, do so in the .org format as they are not commercial institutions.  "Political parties do not register under .com because commercial establishments usually have .com websites. But some time back bjp.com has been created by some...we do not know who," she said.  Since the website was "masked" and linked itself to the Congress website, it was important for the BJP to know who was behind it and hence the legal notice to the ruling party, she added.
Sitaraman said the bjp.com website's owner details were provided as Bharat Journals and Publications and some telephone numbers in the US had been provided. When contacted, the US phones were connected to answering machines, with nobody responding to the calls.
"The Bharatiya Janata Party is popularly called and is known as BJP the world over.  "It is a very funny and an odd thing. If Bharat Journals and Publications was to run the bjp.com website they should do it openly and in a transparent way. Why are they then linking the website to the Congress website? It is clearly attempt to thieve BJP's identity," she added.
A lot of people the world over tried to reach BJP through its website and "this is an attempt to divert that traffic towards the Congress party. It is a clear pickpocket...a very low, petty attempt by the ruling party to take away the benefits of our identity," the BJP spokesperson said.
"It is a deliberate theft and not an unknowingly or innocently done affair and that's our allegation," she added.
Reacting to the charges levelled by BJP, Congress spokesperson Shakeel Ahmed said the party was not aware of the exact facts about the problem regarding the website but said if true, this could be due to some technological problem.
"I don't know the exact facts about the website. But if it is true, there could be some technological problems. It is unfortunate that BJP is trying to politicise a technological problem," he said. PTI