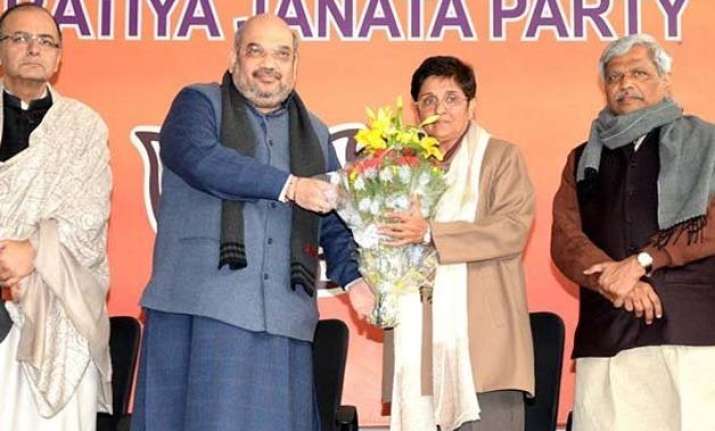 New Delhi: Days before the Assembly Elections in Delhi, BJP chief ministerial candidate and former IPS officer Kiran Bedi chose to share her extensive action plan for the Delhiites on Wednesday.
Using the hashtag #Kiransblueprint, Bedi detailed her comprehensive 25 points "for preventive, corrective and review measures" in the National Capital region.
Here are the points that she shared:
 
Preventive Measures
1)      Increased and smart patrolling in vulnerable areas.
2)      Community policing and neighborhood watch.
3)      Safe and healthy nightlife – strengthening of patrolling and police presence in entertainment areas/hubs.
4)      Stringent driver verification and state-wide centralized criminal database with inter-state coordination.
5)      CCTV cameras in public areas and buses.
6)      Home guards and civil defense escorts on buses on vulnerable routes and at non-peak times.
7)      More ladies-special buses by DTC.
8)      Street lighting in all areas with surprise inspections and full city accountability.
9)      Self-defense training to be a part of school and college curriculum with a special emphasis on martial arts.
10)  Value education in schools and colleges.
11)  Safety kits including pepper spray, whistles, etc. to be handed out to women.
12)  Gender sensitivity training to police.
13)  Punishments for crime against women to be widely publicized.
14)  Laws and punitive action related to women's security to be strictly enforced.
 
Corrective measures:
15)  Quick FIR and lodging of complaints.
16)  A 24/7 special call / response centre for women's security to be set up.
17)  Every district to have a dedicated Police Station for women.
18)  Special women's security force.
19)  Sensitive handling of medical & other tests related to crimes on women–hospitals to be trained, special cells organised.
20)  All existing private SOS apps on mobile apps (such as of the radio taxis and other apps) to be linked to Delhi Police.
21)  Support groups for victims and their families.
22)  Fast track courts.

Review measures:
23)  Regular outreach within constituency by each MLA–jansabhas with people to monitor progress and feedback.
24)  Monthly joint meetings of representatives of the 6Ps with the Chief Minister.
25)  Monthly radio address to communicate progress and actions taken.
 
 The Assembly Elections in Delhi will take place on 7th of February and the results will be out by 10th. Kiran Bedi, is reportedly, BJP's CM candidate who is contesting elections from Krishna Nagar constituency against AAP candidate S K Bagga.