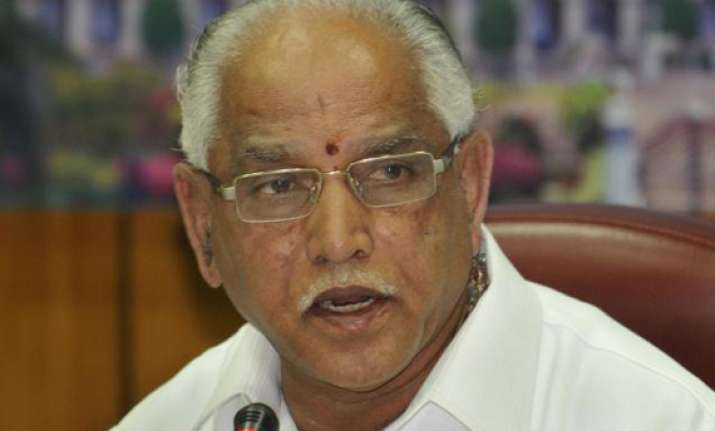 Bagalkot (Karnataka), Dec 18: In a clear attempt to frustrate its former leader B.S. Yeddyurappa, Karnataka's ruling BJP has decided to go slow on action against 14 rebel legislators for backing his Karnataka Janata Party (KJP).
"We will not act in haste as several of these legislators have expressed regrets and want to remain in Bharatiya Janata Party," state BJP chief K. S. Eshwarappa told reporters in this north Karnataka town, about 500 km from Bangalore, Monday.
The decision to delay disciplinary action is in sharp contrast to strong statements for weeks that any BJP member associating with Yeddyurappa will face strict action.
The 14 assembly members had shared the dais with Yeddyurappa on Dec 9 when the former chief minister formally launched KJP after quitting BJP and assembly Nov 30.
Since Eshwarappa had been warning of strict action even if it led to the fall of the party government headed by Jagadish Shettar, Yeddyurappa has been taunting his former party to go ahead with it and not stop at issuing statements.
Apparently BJP wants to cash in on Yeddyurappa's hesitation to bring down the Shettar government as both belong to Lingayat caste, which has large presence in north Karnataka. Shettar hails from north Karnataka town of Hubli, about 400 km from Bangalore.
"Let Yeddyurappa make legislators supporting him resign and bring down the government," Eshwarappa said in Bagalkot.
He said four of the 14 legislators have already expressed regret over attending the KJP launch on Dec 9 and "many others are saying they went there under pressure".
Hence "we will wait till the confusion ends and then take action", Eshwarappa said.
The change in strategy, apart from an attempt to wear down Yeddyurappa and his supporters in BJP, will also save the Shettar government whose term expires May next.
The BJP has 118 members, including the 14, in the 225-member assembly. Four more assembly members have associated with another outfit founded by B. Sriramulu, former BJP minister and jailed mining baron G. Janardhana Reddy loyalist.
Action against the 18 legislators would reduce the Shettar ministry to a minority in the assembly.
The opposition Congress has already petitioned Governor H. R. Bhardwaj to dismiss the Shettar government "as it has lost majority".
The BJP clearly wants assembly elections to be held when it is in power and not under President's rule (which in effect is central government rule) and the go slow against rebels would help it achieve the objective.