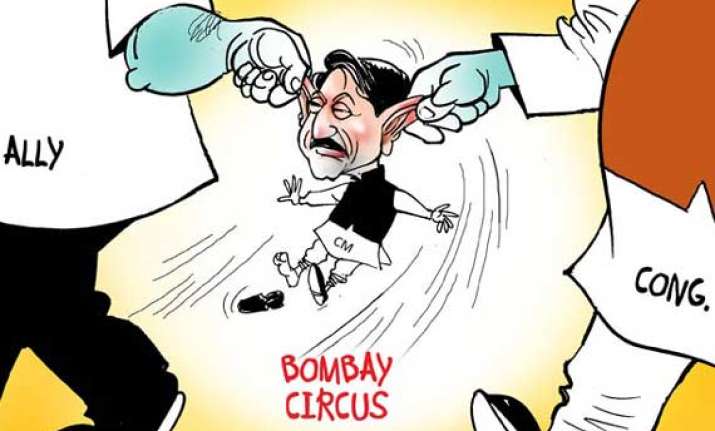 Mumbai: BJP has launched a cartoon campaign against Congress- NCP lead Maharashtra government to combat them in the upcoming assembly polls.
According to sources, BJP is preparing to use cartoons as its primary weapon to capture the seats in Maharashta. It has declared a cartoon war against CM Prithviraj Chavan in Mumbai.
It is said that a cartoon can have an imposing impact on the masses and it is often much more effective than a report or speech.
Late Bal Thackeray realized this way back in 1960ies and 70ies. He sketched cartoons to display people's suffering, anguish and resentment toward the government and had them printed on regular basis in a weekly Marathi magazine – Marmik.
He later founded the Shiv Sena party and managed to form a government in Maharashtra in 1995.
It seems that the BJP is all set to follow Bal Thackeray's footsteps in the coming assembly election in October. BJP will launch a cartoon campaign that would highlight the failures of Congress-NCP led government that has been in power for a decade and a half.
"BJP has made cartoons of Prithviraj Chavan and Deputy CM Ajit Pawar. These cartoons will reflect the trials of the people of Maharashtra", says BJP Spokesperson for Maharashtra, Keshav Upadhyay.
"We will continue this campaign in the future as well and post them on whatsapp, facebook and other social sites, he added.  
The Congress in return has threatened to attack the central government with similar campaigns in retaliation. Congress would raise its voice and expose the failures of the government with greater vigor.
Congress State President Janrdan Chandurkar said, "If BJP stoops to the level of defaming Congress through cartoons then we too will raise our pitch against".
As the assembly polls are approaching, election fever is soaring ever high. The BJP is all set to attack Congress and Congress too has armed itself to take on the challenge.