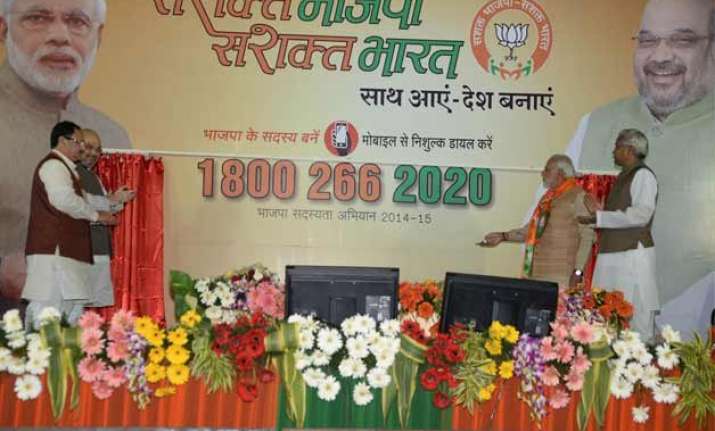 New Delhi: The Bharatiya Janata Party (BJP) has become the world's largest party by having a membership of 8.80 crore in its kitty. With this, the saffron clan has broken the record of the Communist Party of China which was until now considered the biggest with 8.60 crore members.
The drive which began in November, touched the 8.80 crore mark by Sunday and is expected to cross 10 crore by the end of this month.
Party president Amit Shah will announce the exact figure at the national executive to be held in Bangalore on April 3-4.
 The ambitious membership drive was Shah's idea who views the base of active members as a device for consolidating BJP's freshly-achieved pre-eminence.
Sources in the party said that the new practice of enrolment through missed calls is what has worked over the earlier practice of noting the names of purported members by the block-level functionaries which couldn't be verified or claimed.
Through the new practice, the party can always confirm or scrutinize the registration by calling up the numbers from where the missed calls originated. Additionally, the practice also helps to maintain 'live' contact with the members to update them on developments and explain decisions as well as the context in which they are taken.
Officially, the drive will come to an end by March 31 however it is expected to be extended to certain states like Maharashtra where as per the party, large numbers of people are calling to register themselves with BJP.
BJP general secretary Ram Madhav last week hailed the achievement saying the party had added one crore members in the eight days starting March 15. The number increased steadily last week with another one crore joining. Shah is now using the membership drive to also measure BJP's strength in states which are headed to polls later this year and in 2016.
The ambitious drive was launched by Prime Minister Narendra Modi on November 1 when he became the first member by dialing the number followed by Amit Shah.
"BJP's 8 crore members crossed," Madhav said last week, adding that the first 10 million were added in 30 days, the second in 22 days and the third in 13 days. He said the party added the fourth such unit in 16 days, the fifth in 18 days and the sixth in the subsequent 21 days. The last 20 million were added in 15 days and eight days respectively.
Meanwhile, the skeptics say that the increase in number cannot be considered as the actual figure of members on the ground. They also say that PM's popularity and its current influence may draw thousands into the fold however, their loyalty is still doubtful.