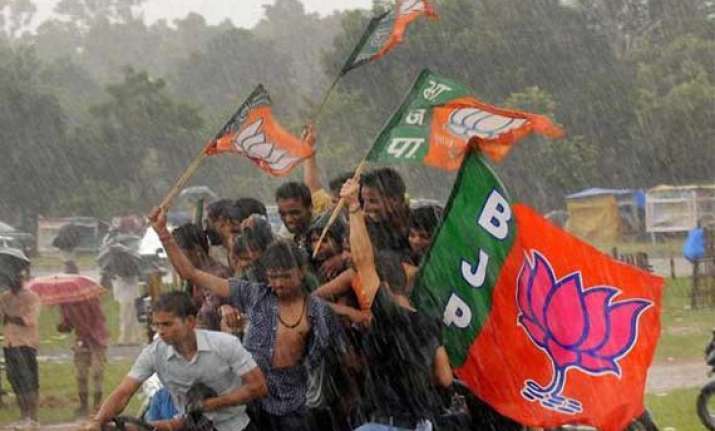 New Delhi: The BJP has released its list of candidates for the by-polls to the Parliamentary and Legislative Assembly Constituencies in seven different States.
Ranjan Ben Bhatta's name has been announced as party's candidate for Vadodara Lok Sabha constituency that had been vacated by Narendra Modi . Modi chose to keep Varanasi seat and vacated Vadodara.
Among the 11 vacancies in Uttar Pradesh Assembly, BJP has decided candidates in 10 seats.
These are Rajeev Gumber from Saharanpur Nagar, Hemendra Pal Singh from Bijnor, Rajpal Chauhan from Thakurdwara, Vimla Batham from Noida, Ramkumar Verma from Nighasan, Gopal Tandon from Lucknow East, Jagdish Vyas from Hamirpur, Geeta Singh from Charkhari, Santosh Patel from Sirathu and Akshaywar Lal Gaur from Balha (SC) assembly constituency.
In Assam Dilip Paul, Sanjay Thakur and Belaluddin have been selected to contest from Silchar, Lakhipur and Jamunamukh assembly constituencies respectively.
From Chhattisgarh's Antagarh assembly constituency Bhojraj Nag will be contesting.
In Gujarat, Lebjiji Chaman, Suresh Patel, Hardasbhai Bera, Laxmanbhai Rambhai, Shivabhai Gohil, Rohitbhai Patel, Kesrisinh Solanki and Vichhiya Bhuriya will be contesting from Deesa, Maninagar, Tankara, Khambhalia, Mangrol, Talaja, Anand, Matar and Limkheda assembly constituencies respectively.
In Rajasthan, Gangaram Koli, Sarita Gaina and Sandeep Sharma will be contesting from Weir, Nasirabad, Kota South assembly constituencies respectively.
In Sikkim, Bikash Basnet will be contesting from Rangang Yangang assembly constituency. From Tripura's Manu assembly constituency, Nirmal Kumar Tripura will be contesting.
In West Bengal, Samik Bhattacharya will be contesting from Basirhat Dakshin assembly constituency while Ritesh Tiwari will contest from Chowrangee.