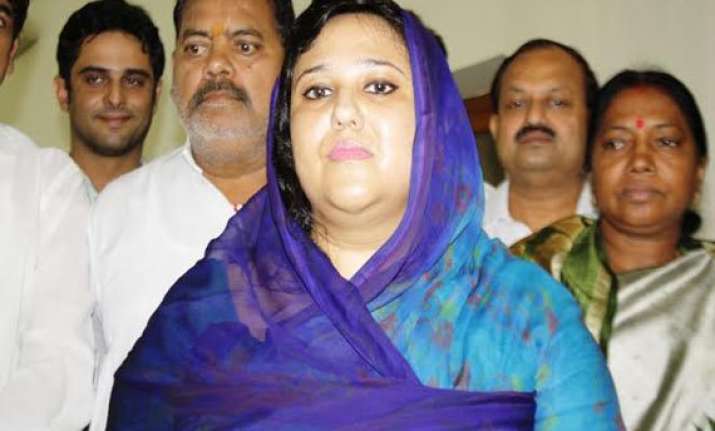 Bhubaneswar: BJD candidate Pratyusha Rajeswari Singh, widow of former MP Hemendra Chandra Singh, today won the by-election for Kandhamal Lok Sabha seat in Odisha trouncing BJP's Rudramadhab Ray by a whopping 2,98,868 votes.
In her maiden poll battle, Pratyusha Rajeswari secured 4,77,529 votes, while former MP from Kandhamal Ray polled 1,78,661 votes in a seven-corner contest in the communally sensitive and Maoist-hit constituency, Kandhamal district election officer, Sumant Kar said.
Congress nominee Abhimanyu Behera, a former Phulbani MLA, was pushed to the third position securing 90,536 votes in the bypoll for the constituency, spread over four districts of Kandhamal, Ganjam, Nayagarh and Boudh.
Bypoll in the constituency, held on October 15, was necessitated following the demise Pratyusha's husband Hemendra Chandra Singh last month, who had won the seat in the Lok Sabha polls held in April 2014 by a margin of 1,81,017 votes.
An analysis of votes cast showed that BJD bagged a lion's share of 61.5 per cent of over 7.75 lakh total votes polled, while BJP secured 23 per cent and Congress 11.7 per cent.
Others polled 3.8 per cent votes, while 1.4 per cent voters chose none of the above (NOTA) option.
Jubilant over the by-poll result, Chief Minister Naveen Patnaik, who is also the president of the ruling BJD, said the huge winning margin showed the continued support extended by people of Odisha for the plans and policies of the government.
Describing her win as a victory of the people and BJD supremo, Pratyusha said she would sincerely work for the development of backward Kandhamal and to fulfil the dreams of her late husband, who hailed from the Nayagarh royal family.
BJP leader Bijay Mohapatra, who led the party's campaign in the sensitive constituency, said despite the loss the party succeeded in increasing its vote share by 11 per cent compared to last polls through 11 days of campaign.
"The bypoll result shows the political equation in the state is undergoing a transformation and BJP will play a significant role in future as Congress base appears to be getting eroded fast," Mohapatra said.
Alleging massive use of money power and official machinery by the puling BJD to win the by-poll, Congress state president Jaydev Jena said the party would overcome the bad phase as it had done in the past.
Defeated Congress nominee Behera alleged huge flow of money by both BJD and BJP, who are in power in Odisha and the Centre respectively. He said the dangerous practice adopted by these parties was posing a serious challenge for the democratic set up.