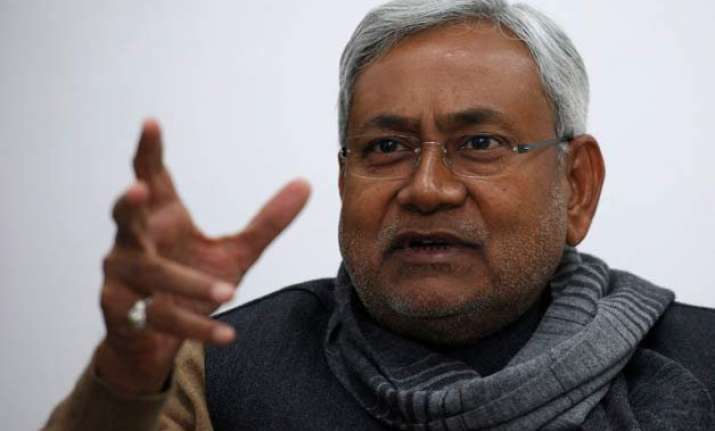 Patna: A day after Bihar Chief Minister Nitish Kumar donated one month's salary for the earthquake victims in the state, his cabinet colleagues, JD-U legislators and MPs will follow the suit in a day or two, officials said on Friday.
Nitish Kumar donated his one month's salary of Rs.1 lakh on Thursday.
"In view of chief minister's appeal to his cabinet colleagues, party legislators and MPs to come forward and extend their helping hand and donate for earthquake victims, his ministerial colleagues and others are likely to donate their one month's salary for the cause soon," an official in chief minister's office here said.
Infact, encouraged by Nitish Kumar's move, more than three lakh teachers, thousands of employees of Bihar State Power Holding Company Limited have decided to donate their one-day salary to chief minister's relief fund for the quake victims.
Even the pensioners of Bihar electricity board have decided to donate one day pension for the victims.
Earlier, Bihar state bridge construction corporation has donated Rs.1.5 crore in the chief minister's relief fund for the victims following Kumar's appeal.
Till date, Bihar has sent 14 trucks of relief materials to the people affected by the April 25 earthquake in Nepal and safely brought thousands of people from the state stranded in the Himalayan nation.
Bihar Water Resources Minister Vijay Kumar Choudhary told IANS over telephone that state government was doing all possible things to provide help and relief to earthquake victims in Nepal.
"We had dispatched electrical equipments including cable to restore and repair power in affected parts in Nepal, to food package, tents, blankets, milk, water bottle to 70 coffins to bring back bodies of those killed in Nepal," Choudhary, who is camping at Raxaul near Nepal border to oversee evacuation and relief operations in Nepal in coordination with central agencies, said.
Choudhary said that state government has also sent medical teams to Nepal to provide help to the victims.
According to officials, 25 tents manufactured by inmates of Bihar's Buxar jail were sent to earthquake victims in Nepal.