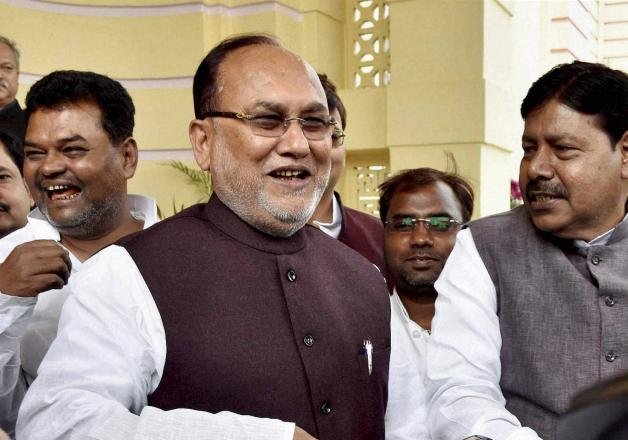 Patna: Bihar finance minister Abdul Bari Siddiqui today presented a Rs 1.44 lakh crore state budget for 2016-17 with no fresh tax proposals.
Presenting a revenue surplus budget of Rs 14,649.46 crore for 2016-17, an increase of Rs 24,010.95 crore from the current financial year's (2015-16) budget of Rs 1,20,685.32 crore, departments of education, health, energy and road construction got a major thrust.
The budget had the imprint of Chief Minister Nitish Kumar's 'Saat Nischay' (seven resolves), which also found its place in the budget document.
Terming Prime Minister Narendra Modi's special package as 'Mrigtrishna', Siddiqui demanded the Centre to accord 'special status category' to the state as it would help in attracting investments, specially private investments, for its faster and overall development.
Education got the highest budgetary allocation of Rs 21,897.02 crore, while energy got the second highest allocation of Rs 14,367.84 crore. The health department was allocated Rs 8,234.70 crore.
Three new medical colleges would be set up at Chapra, Samastipur and Purnea as the Centre has given its approval in this regard, Siddiqui said adding five new medical colleges would be set up in the state, each having a nursing college.
Briefing reporters about budget proposals, Siddiqui said "there is no proposal for fresh taxes in the budget."
Enumerating the salient features of his budget, the finance minister said youths aged between 20 to 25 years would be given Rs 1,000 per month as 'unemployment allowance' for two years for searching jobs.
Similarly, students who have passed 10+2, would get 'student credit card' enabling them to get education loan of upto Rs 4 lakh for pursuing higher education. These two announcements form part of Nitish's 'Saat Nischay'.
In order to attract migrant labourers, Siddiqui made a fresh announcement that the state government would make payment of fares for Sleeper Class to labourers who go outside the state in search of jobs.
The estimated revenue receipts of state government have been put at Rs 1,24,590.24 crore in 2016-17, which was Rs 21,401.18 crore more than Rs 1,03,189.06 crore for the year 2015-16 budget estimates.
Revenue receipts include state's share in central taxes, state's own tax and non tax revenue.
The minister said fiscal deficit has been estimated at Rs 16,014.26 crore, which was 2.87 per cent of the Gross State Domestic Product (GSDP) at Rs 55,8808.65 crore for the year 2016-17.