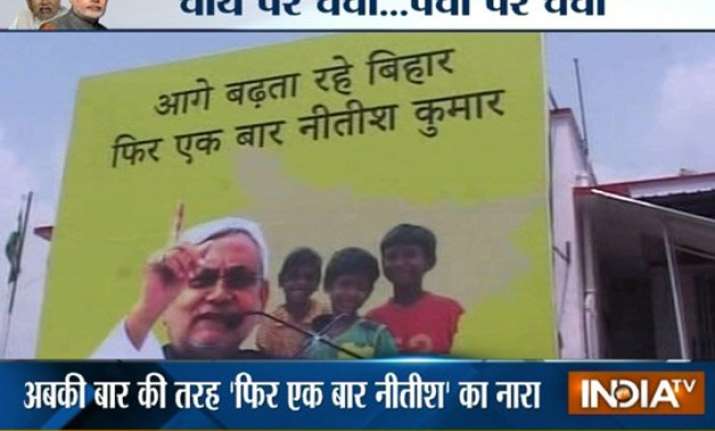 Patna: Bihar Chief Minister Nitish Kumar today launched an ambitious door-to-door campaign 'Har Ghar Dastak' for the upcoming Assembly polls in the state.
Kumar informed that around 10 lakh Janata Dal (United) workers will knock on doors across the state and talk to people in next few days.
"All the members of our party are trying to reach all the homes in Bihar. Our agenda is to reach one crore homes," Kumar said.
The 'Har Ghar Dastak' initiative is designed by former key member of Narendra Modi's team, Prashant Kishor.
Kishore had built innovative campaign strategies of Modi ahead of the Lok Sabha polls.
The 'Har Ghar Dastak' initiative is designed similar to Modi's 'Ghar Ghar Modi' campaign.
Other programs developed by Kishore for Kumar's campaign are too similar to that of Modi's. They are:
Parche Par Charcha: This has developed similar to Modi's 'Chai Par Charcha'. 'Parche Par Charcha' is aimed at reaching out to people en masse.
Phir Ek Baar, Nitish Kumar: This slogan was coined similar to 'Abki Baar Modi Sarkar'. Several posters and hoardings have been put at several places across the state which reads 'Phir Ek Baar, Nitish Kumar'.
For Modi, Kishor had thought up innovations like the use of 3-d holograms at public rallies. But for Kumar, Kishore, who belongs to Bihar, said that voters in the state will prefer direct contact to hi-tech campaigns.
The latest campaign has a new slogan and even a new song composed by Sneha Khandilkar, the popular music director of films like Oye Lucky! Lucky Oye! and the Gangs of Wasseypur series.
KC Tyagi, a spokesperson for Kumar's Janata Dal (United), also confirmed Kishor's likely involvement with the party's campaign for the Bihar elections.
"The work that he would be doing...would be something to make the election strategy data-driven, a professional campaign that Bihar has never seen till now," Tyagi said.
Assembly election in Bihar will take place in September-October this year.