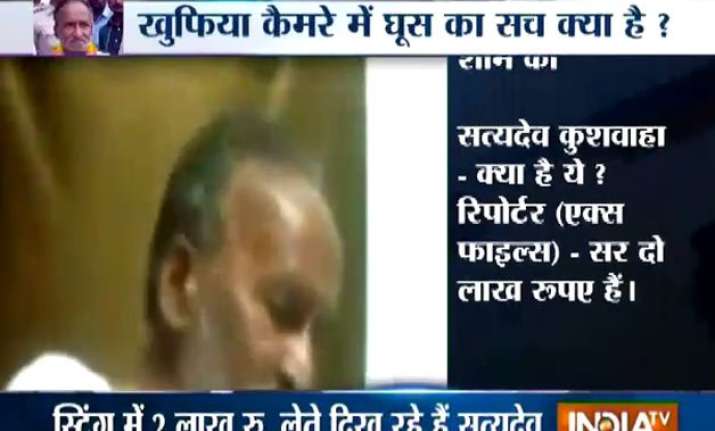 New Delhi: Two days ahead of the third phase polls in Bihar, the BJP has released a video purportedly showing a lawmaker of the Janata Dal (United) accepting an alleged bribe of Rs 2 lakh.
In the sting video, Satyadev Kushwaha, a legislator from Kurda in Arwal district, is seen accepting the money and demanding more while promising to help a person posing as a businessman when the JD(U) government returns to power in Bihar.
Kushwaha, while accepting and counting the cash, can be heard saying, "aur chahiye" (want more).
The purported businessman asks if another Rs 5- 6 lakh will do, to which Kushwaha says "haan chalega" (will work).
The video was tweeted by BJP general secretary Bhupender Yadav, who said it exposes the "corruption" in JD(U) and asked people to elect the Modi government in Bihar.
This is the second video within two weeks which shows JD(U) lawmakers accepting bribes.
Earlier, a day before the first phase polling in Bihar, Awadhesh Prasad Kushwaha, the JD (U) lawmaker from the Pipra assembly constituency in Bihar's West Champaran, was shown allegedly accepting bribe purportedly from a businessman to contest election. He had to resign and the ticket allotted to him for contesting the elections was also withdrawn.
Last week, firebrand BJP leader Giriraj Singh released a video of Chief Minister Nitish Kumar visiting a tantric.
In the video clipping, the tantrik, while expressing his unhappiness over Nitish's decision to join hands with Lalu Prasad Yadav, raisised slogan 'Nitish zindabad, Lalu murdabad'.