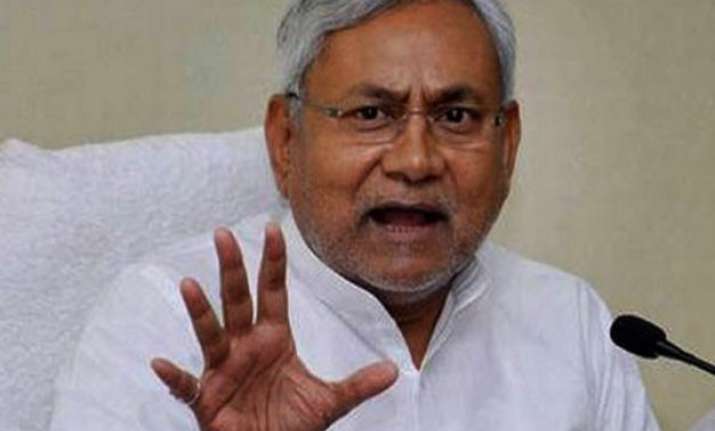 Patna:  Bihar Chief Minister Nitish Kumar on Monday said the state had developed in the last 10 years and his government had worked for its development with justice for all.
Nitish Kumar also said that Bihar had its own model of development and now had a positive image in the public mind.
"Bihar has now a positive image as the rule of law has been established. It recorded high growth rate and witnessed the development of basic infrastructure to human development in the last one decade, which was lauded and studied by foreign universities," Nitish Kumar said while releasing a final report card on his government's performance ahead of the coming Bihar assembly polls in October-November.
Nitish Kumar has told media repeatedly that development took place during his two terms as chief minister from 2005 to 2010 and from 2010 to 2015.
"Bihar is on the path of progress and development. The state has recorded an average of 10 percent growth rate in the last 10 years," he said.
The report card said that the state recorded a growth rate of 17.99 percent at current price during 2014-14. In 2004-05, the Gross State Domestic Product (GSDP) was Rs.77,781.16 crore, which increased in 2014-15 to Rs.402,282 crore.
The plan expenditure was Rs.3,124.32 crore in 2004-05, which increased to Rs.43,931.61 crore,an average increase of 31.95 percent.
In the education sector, children in the age group of 6 -14 years were brought to school. "There were 12 percent children out of school in 2005 which now has been reduced to 1.72 percent," Nitish Kumar said.
He said the state government stressed mainly on girl education through several schemes like free uniforms to cycle distribution to increase their enrollment in schools. "The successful cycle scheme for girls brought a social change in Bihar," the chief minister said.
He said 40 lakh children studying in class 9 received money for buying cycles.
Nitish Kumar said the vaccination under regular immunization was 18.6 percent in 2005, which now had increased to 78 percent. This figure is higher than the national average.
"The state government has constructed 66,508 km major and rural roads in the last decade. Similarly, 5,431 major bridges were constructed to improve connectivity."
He said the power situation had also improved in Bihar. The per capita consumption of electricity in the state increased from 70 kWh in 2005 to 203 kWh in 2015.
"In November 2005, average availability of power was 6 to 8 hours in the urban areas and 2 to 3 hours in rural area. But in 2015, the average availability of power in urban area is 22 to 24 hours and 15 to 16 hours in rural areas," Nitish Kumar said.