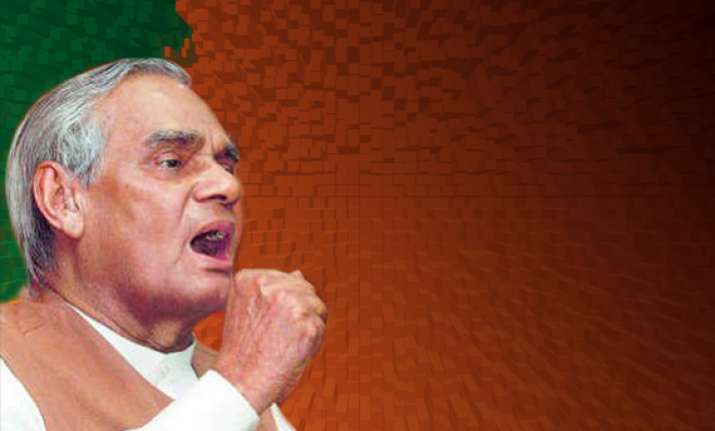 New Delhi, Dec 26: BJP veteran Atal Bihari Vajpayee, who turned 88 yesterday, was credited with giving the country the concept of bipolar polity by his colleague LK Advani who said shift from unipolar polity brought a "fundamental change" to Indian politics.

"...the credit goes to three people - Shyama Prasad Mukherjee, Deen Dayal Upadhyay and Atal Bihari Vajpayee. But the biggest contribution is of Vajpayee," he said at 'bhajan sandhya' organised here in the honour of the former Prime Minister.

He said while Mukherjee and Upadhyay got little time to bring the shift, Atal Bihari Vajpayee worked for nearly 60 years to end single party rule in the country.

Advani, who was the deputy Prime Minister in Atal Bihari Vajpayee Cabinet, said Jan Sangh, BJP and the NDA gave bipolar polity to the country which was ruled by Congress during most part of the post-Independence era.

He said during his previous yatras, he received active guidance of Atal Bihari Vajpayee, but during the latest Jan Chetna Yatra, he could only receive the blessings of the party veteran which helped him achieve the objectives.

"His absence was felt...," said Advani who was accompanied by his wife Kamala on the occasion.

The gathering was also addressed by BJP President Nitin Gadkari and NDA leaders Sharad Yadav (JD-U) and Manohar Joshi (Shiv Sena).

Yadav said despite the ups and downs in his political career, Atal Bihari Vajpayee maintained a fine balance in his political life which was worth emulating.

Gadkari said Atal Bihari Vajpayee's good governance gave a new direction to the BJP which has decided to observe his birthday as 'good governance day'.