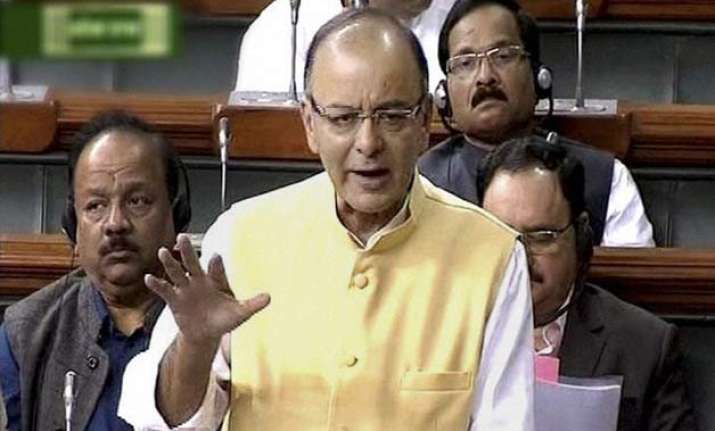 New Delhi: Days after Rahul Gandhi's 'suit-boot ki sarkar' barb, Finance Minister Arun Jaitley on Thursday described the Narendra Modi dispensation as 'soojh-boojh ki sarkar' and took a dig at the Congress Vice President for his "disappearance for a jaunt".
With Modi seated beside him in Lok Sabha, Jaitley took potshots at Gandhi and Congress who have been targeting the Prime Minister for his frequent foreign tours.
He also hit out at Congress for politicising the farmers' issue, on a day Gandhi was in Vidarbha on a 'padyatra' to highlight the plight of the farming community.
"This is a 'soojh-boojh ki sarkar'(a wise government). "Let there be no illusions about it," Jaitley said while replying to a debate on Finance Bill.
The senior BJP leader, who was clearly hitting out at Gandhi for his 'suit-boot ki sarkar' barb, added, "It is good to be suited but dangerous to be booted out."
Congress, which ruled the country for 10 years, lost power in the last Lok Sabha elections last year and got the dubious distinction of its lowest ever performance as it managed only 44 seats in the 543-member House.
Reacting to Gandhi's taunt that the Prime Minister is often abroad, Jaitley remarked, "at least we know where the Prime Minister is...PM's trips are a national duty. There is a difference between a national duty and disappearance for a jaunt."
Congress leader Mallikarjun Kharge hit back, saying the question about Rahul Gandhi's absence should not be posed to him. "You have the government, the intelligence set up. You would now. Do not ask me this question...wherever he goes, he does not publicise," he said.
Referring to Congress member K V Thomas' remarks that the Prime Minister made 16 foreign trips, Jaitley said India's stature in the comity of nations has increased.
"India is now a leader even in an area like disaster management. This is no mean achievement," he said referring to evacuation undertaken by India of nationals of 48 countries besides its own nationals from war-torn Yemen as also the rescue and relief help given to quake-ravaged Nepal.
He said that in the last 11 months, four operations to evacuate people from war-torn countries have been undertaken.
To Congress jibe that Modi is all-powerful and ministers have no powers, the Finance Minister said, "yesterday your leader (Rahul Gandhi) found PM is outside the country, today you say he is hands-on PM and does not let other ministers work...make up your mind."
With regard to Congress raking up the issue of farmers, Jaitley said, "It has become a tradition now. We should all be concerned about farmers. But nobody should be allowed to use farmers as a political instrument."
Attacking the opposition for its strident resistance to the controversial land bill, he told them that they should not resort to the misinformation campaign that the law was aimed at helping corporates and against the interests of the farmers.
"Any delay in the 'vikas yatra' (develompent march) of the poor can be painful...so far, you are indulging in a hit-and-run debate on land bill. Now let me ask why did CMs of UPA-ruled states demand change in the law," he asked.
He said the more the opposition opposes the land bill, "the more you will be opposed. Half of 60 per cent of village population is landless," he said.
He said the government wants village infrastructure but there will be no land. There would also be no land for affordable housing.
Even BR Ambedkar had pitched for industrialisation of the rural areas for development, Jaitley said.