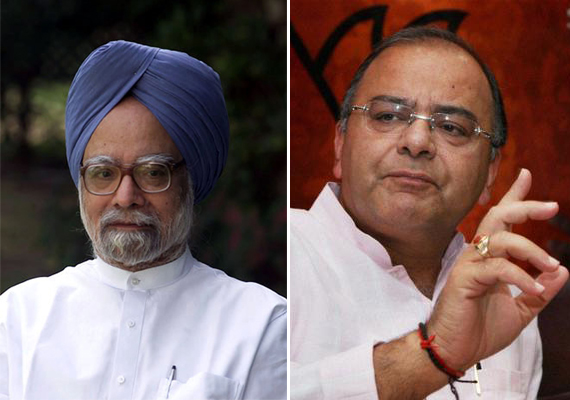 New Delhi, Aug 23:  BJP-led NDA today stuck to its demand for the Prime Minister's resignation on the coal block allocation issue at a meeting convened by the Rajya Sabha Chairman to end the impasse and boycotted a meeting called by the Lok Sabha Speaker on the matter.
The meeting called by Upper House Chairman Hamid Ansari saw BJP and Congress members throwing barbs at each other on the continuing deadlock in Parliament.
While all agreed with Ansari's "bonafide" intentions of ending the impasse, they did not budge from their stated positions.
Leader of the Opposition in Rajya Sabha
Arun Jaitley
is understood to have stated that Parliament is also about accountability and this role cannot be jettisoned by the government.
Congress leaders said Parliamentary practices were going downhill and put the blame on the opposition's attitude.
BJP countered this by mentioning that Congress had stalled Parliament for 20 days when the Tehelka issue came up during the NDA regime, sources said.
The Left parties alleged that the coal allocation issue had now become a Congress versus BJP fight.
They suggested that Prime Minister Manmohan Singh should call an all-party meeting to end the deadlock, the sources said.
The meeting remained inconclusive and Ansari is likely to convene another meeting soon, they said.
A meeting to end the impasse in Lok Sabha called by the Speaker Meira Kumar was boycotted by NDA. SP and BSP also stayed away from it.
Later, NDA leaders held a meeting chaired by its Working Chairperson L K Advani. Sources said NDA members decided to continue with their demand for the Prime Minister resignation on the coal block issue.
The meeting convened by Ansari was attended by
Ravi Shankar Prasad
, Maya Singh (both BJP), Congress leaders Karan Singh, Rajeev Shukla and V Narayanasamy, Derek O'brien (TMC), Sanjay Raut (Shiv Sena) and D Raja (CPI), among others.
Parliament has witnessed turmoil for the past three days with BJP members demanding the resignation of the Prime Minister over CAG's findings on coal block allocation, which according to the auditor led to "undue benefits" to private parties to the tune of Rs 1.86 lakh crore.
The meeting called by the Speaker on the issue was attended, among others, by Home Minister Sushilkumar Shinde and Trinamool Congress leader Sudip Bandyopadhyay.
BJP sources said the party is not likely to give up its demand for the Prime Minister's resignation and was ready to continue with the deadlock for the remaining period of the Parliament session. The monsoon session ends on September 7.