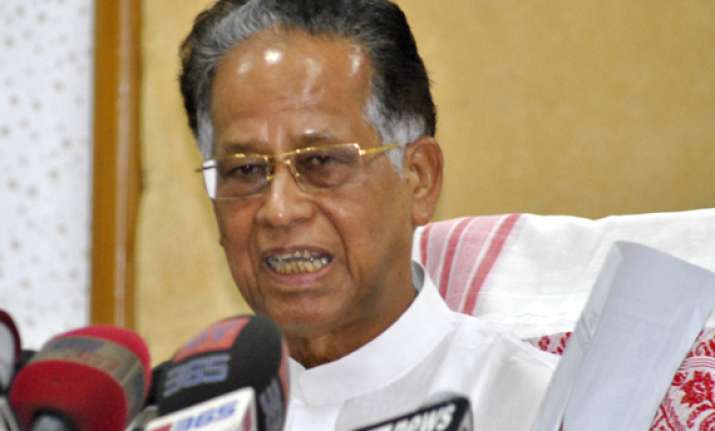 Guwahati, Jun 15: Dismissing the ongoing dissidence against his leadership, Assam Chief Minister Tarun Gogoi today sent out a strong signal by saying that he will contest for the top post in 2016 state assembly election.
Addressing a press conference here to express his optimism about Congress victory in the forthcoming Guwahati Municipal Corporation (GMC) election next week, Gogoi said the party high command in New Delhi has "full confidence" on him.
"Dissidence is a small issue... I gave assurance to Delhi high command that I'll bring more seats in next election.  Delhi has full confidence in me...I will host the flag on many 15 August," he said.
Expressing optimism, Gogoi said that his party will form government in 2016 also and "if people of Assam want, I will again be the CM in 2016. It will also depend on my health".
He further said his party will win in the 2021 state election as well.
Health Minister Himanta Biswa Sarma is one of the MLAs who have revolted against Gogoi's leadership and have sought the high command's help, but without any success so far.
"Himanta wants to be the CM... Earlier I had good relations with him, but not now. However, even if he is campaigning against me, I enjoy a very good personal rapport with him," the Chief Minister said.
Talking about GMC elections, Gogoi said Congress will win with huge margins.
"People understand that only Congress can do well for them. They compare us with AGP and BJP on performance and we have delivered in all aspects," he added.
The Congress has brought in a sense of security to the city, thereby attracting investors, he claimed.
"Our aim is to make Guwahati a world standard city.  Outside the state, still there is a perception among some that the city is not safe. We have to make strong propaganda to change this," Gogoi said.