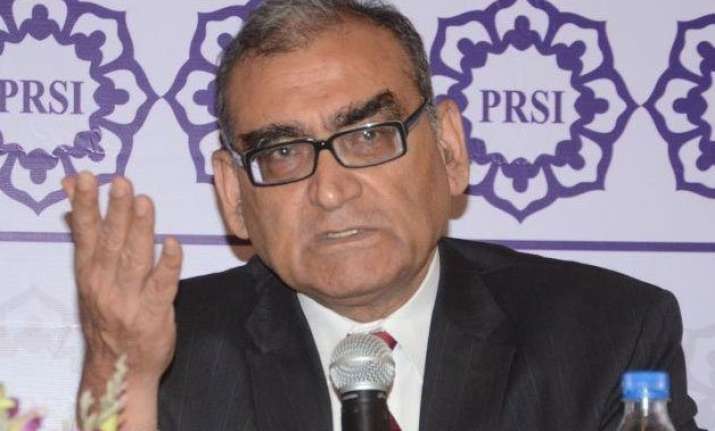 New Delhi: Former Press Council of India (PCI) chairman Markandey Katju today lambasted Aam Aadmi Party (AAP) saying people are now seeing the true colour of nearly 2.5 year old party.
His reaction came after the city government put up posters across the national capital requesting Prime Minister Narendra Modi to allow it to work.
He also slammed CM Arvind Kejriwal has been exposed as a man with a dictatorial bent who is not prepared to tolerate any dissent.
Here is the complete Facebook message of Katju:
The Sapnon ka Saudagar has been totally exposed
When the Aam Admi Party was formed many people hailed it as an honest democratic alternative. A party desperately needed by Indians who were fed up of the corrupt politics in India.. Not only Indians living in India but even NRIs living abroad enthusiastically joined it.
Today that image of AAP is totally shattered, and people have seen its true colours, as indeed I had predicted in my Facebook posts and blogs (see 'The Reality of Arvind Kejriwal' and other blogs on AAP in justicekatju.blogspot.in).
Arvind Kejriwal has been exposed as a man with a dictatorial bent, who is not prepared to tolerate any dissent. The unseemly and undemocratic way in which he threw out Prashant Bhushan and Yogendra Yadav, co-founders of the party, who expressed their disapproval of selection of some persons with a shady background for being candidates for the Delhi Assembly elections, and also expressed their dissent on some other issues shows his desire to become 'Der Fuhrer' in the Party, and surround himself with ' Yes Men ', chamchas and Sancho Panzas..
Some of the MLAs he had selected are facing serious criminal charges, and more may follow suit in the near future.
Yesterday, I went around to some parts of Delhi, e.g. Greater Kailash, Saket, etc.. Everywhere there were huge posters saying "Kejriwal ka kamal, education budget doubled, healthcare budget made one an a half times".
I am told such poster are all over Delhi, and have even been put up all over India as far as in Tamil Nadu. So the Rs.526 crore allocated for AAP propaganda is being well spent!
I spoke to many persons in Delhi who were earlier ardent AAP supporters. Most of them have become totally disenchanted and disillusioned.
The 'Sapnon ka Saudagar' has been totally exposed.