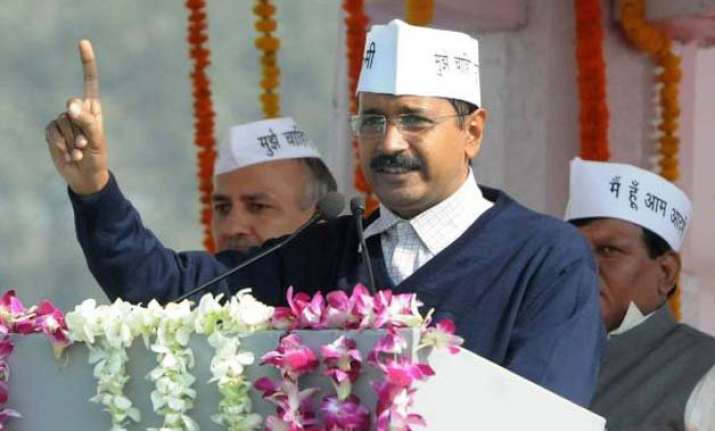 New Delhi: The Arvind Kejriwal government has completed a month in office on March 14. In the run upto the assembly elections, he had made many tall promises... from revamping Delhi as a World Class city, he wisely managed to sell his 70-point action plan. But now it seems that he has no time pondering over them.
He, however, fulfilled his promise to provide free water and electricity at low price.  But the real truth is something else...
Free water to 30 % Delhiites only
The city government's announcement that every household will get 20,000 litres water at no cost every month doesn't reach the poor people living in jhuggis and slums. Approximately 30 per cent of Delhiites are getting benefit of the announcement because these people have only metered connections.
Delhi's own power station a distant dream
The national capital has a peak load of 6200 mw. The AAP government wants to set up Delhi's own power station. But pollution rules don't permit a coal-fired unit in urban units. A gas-based unit is expensive. He will have to outsource power from other states.
For new schools, Kejriwal seeks land from Modi govt
Kejriwal had promised to build 500 schools in Delhi. He had said that land for the same will be acquired by villagers and farmers. Recently, Deputy Chief Minister Manish Sisodia said that if Narendra Modi government helps the city government in meeting the land needs, it will surely move forward with the promise.
Is free wi-fi actually possible?
Free wi-fi service will only be free for first 30 minutes. Even during that period there will be no access to YouTube, Facebook or e-mail services. Only government websites and other public services websites will be accessible. Beyond 30 minutes. One will have to par from his/her pocket.
Funds crunch may hit CCTV project
Kejriwal had promised to install 15 lakh CCTV cameras. Installation of 15 lakh cameras cost around Rs 3.7 lakh crores. The amount is equivalent to Delhi's GDP. The first issue is money... Secondly, even he manage to install CCTVs, Kejriwal will need more cops to monitor them. Delhi has about 100,000 cops.
For this project, 4.5 lakh cops will be needed. It should be noted that Beijing has 4.7 lakh CCTVs, London has 4.2 lakh CCTVs. It is like promising Mars to Delhi people.
Media banned from Delhi Secretariat
There was a time when the Aam Aadmi Party (AAP) was craving to have transparency in government's working and policies. But after storming to power, the Kejriwal government banned media in the Delhi Secretariat.