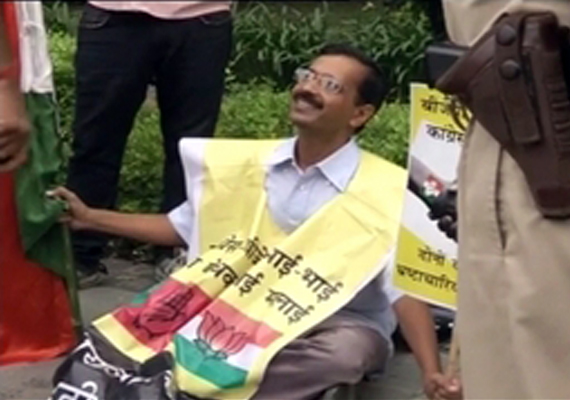 New Delhi, August 26: Arvind Kejriwal was arrested and released soon after for the second time today.
Arvind Kejriwal and his supporters took out a march from Jantar Mantar towards the residences of PM Manmohan Singh, Congress president
Sonia Gandhi
and BJP president
Nitin Gadkari
.
In order to stop Arvind and his supporters from going ahead, Delhi Police lathicharged protesters. The Police also used water canon and tear gas to disperse the protesters.
Delhi Police arrested Arvind Kejriwal for the second time for protesting without permission but released him soon after. Prashant Bhushan and other IAC members were still in detention at Parliament Street police station till the last report came in.
Earlier in the morning, Arvind Kejriwal and his supporters were arrested for protesting outside the residences of PM Manmohan Singh, Congress President Sonia Gandhi and BJP President Nitin Gadkari.
They were released soon after but they continued their protest and assembled again at Jantar Mantar and tried to march once again towards the residences of PM, Sonia Gandhi and Nitin Gadkari.
A Delhi Police spokesperson said in the evening that in all, 974 people were detained and were later released.
Five criminal cases have been filed against police against unknown persons  after today's protests by India Against Corruption, he said.
The cases of rioting, destruction of public property and assault on public servants have been filed in different police stations, the spokesperson said, adding 21 people , including 16 policemen were injured.