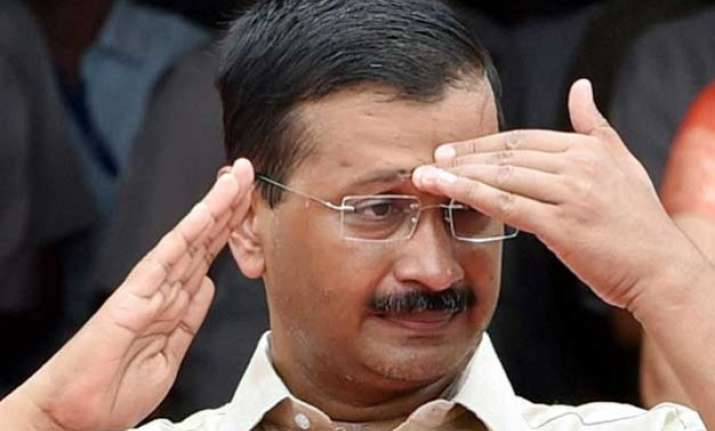 New Delhi:  Valentine Day of year 2015 was very special for Delhi Chief Minister Arvind Kejriwal. It was on this day that he took over the reins of Delhi government after registering a historic victory in Assembly elections. An emphatic win in 67 out of 70 Assembly seats left every political observer amused and bewildered.
Even Kejriwal had not expected a clean sweep of this magnitude. Sheila Dikshit's Congress party that had ruled National Capital for last 15 years failed to even open its account and the BJP was left licking its wounds with mere 3 seats in its kitty. In this breathtaking political battle, reminiscent of David vs Goliath storyline, Arvind Kejriwal (Goliath) succeeded in halting the juggernaut of Narendra Modi (David) who was fast emerging as the invincible warrior of Indian polity.
Arvind Kejriwal completes first year of his term in office on the Valentine Day of 2016. Has Kejriwal fulfilled the promises he had made to a completely besotted electorate that trusted each and every word of its beloved leader?
Well, he has undoubtedly delivered on two of his big promises – free 20,000 litre of water and subsidised electricity. He got them implemented immediately after taking over as the head of the Delhi government.
But apart from these two promises, Arvind Kejriwal has hardly delivered on other promises that his party made in its election manifesto.
The biggest failure of Kejriwal government relates to the Janlokpal Bill. Here is a party for which this bill was the raison d'être. After assuming power, the priority of Arvind Kejriwal changed all of a sudden. Instead of trying to get his most important promise implemented, the Delhi CM preferred to turn it into a political football to be played with central government. Kejriwal government drafted this bill in such a way that it transgressed into domain of the central government given the fact that Delhi is still not a full-fledged state.  The Janlokpal bill has too many drawbacks that can't be overlooked.
Read more: 'No reputation, character': Arun Jaitley gives Arvind Kejriwal a taste of his own medicine
"This party (AAP) came into being with that question, contested elections on that promise, resigned from power on Janlokpal. The least that you should have expected was that they would come back to power, bring back that old bill and get it passed. Instead, they junked that bill and brought a bill that is worse than worse than the bill brought bu Congress and BJP. In fact, I thought Uttarakhand's Bill of BJP government was better than Delhi bill," says Yogendra Yadav, the former AAP ideologue.
In this one year, Arvind kejriwal also gave credence to the allegations of him being a 'dictator' by nature. The way he crushed dissenting voices emanating  from within the party, the abusive  language that he used against his colleagues Yogendra Yadav and Prashant Bhushan, the metaphor(psychopath) that he used for Prime Minister Narendra Modi , all these sent out the impression that he was totally intolerant of criticism and ideologies of rival political parties.
Arvind Kejriwal's failure to provide free wi-fi spots across the national capital has hugely disappointed youngsters who formed one of the important pillars of his support base. His government is yet to fulfil promises of installing CCTV cameras throughout the streets of Delhi. Delhiites are yet to hear from this government on fulfilling promises of  setting up hundreds of new schools and hospitals in the capital city.
If political observers are to be believed, instead of trying to fulfil promises made in party's manifesto, Arvind Kejriwal has diverted all his energy and efforts towards settling political scores with Narendra Modi-led central government. After trouncing Modi in Assembly elections, Arvind Kejriwal, perhaps, now wants to emerge as his alternative at the national level. The kind of interest he took in Bihar Assembly elections and the strategic advices that he offered to Nitish Kumar give an inkling of his future plans. Obviusly, Delhi, for Arvind Kejriwal, is just the mean and not an end as far his political ambition is concerned.
Kejriwal government's face-off with central government and Lieutenat-Governor has reached to a level that has left the entire bureaucracy demoralised. Things have reached to a passé that Delhi police Commissioner and  state's Chief Minister, instead of working in tandem to make life easy for Delhiites, are challenging and ridiculing each other almost on daily basis. CBI's raid on the office of Kejriwal's trusted bureaucrat Rajendra Kumar and Delhi CM's scathing attack on Union Finance Minister Arun Jaitley has further vitiated the atmosphere as far as centre-state relations are concerned.
Does it mean that Arvind Kejriwal has lost sheen among those who voted him to power with such a big mandate? Honestly speaking, it will be too early to say that because his core support base consisting of lowest strata of society still stands solidly behind him.
" Kejriwal has fulfilled his promises made to the lowest strata of the society. It was Kejriwal who gave Delhi the first minister from 'scavenger' community. How can we forget that?," asks Cheena Maharaj, the man who Delhi CM considers as his guru.
Undoubtedly, Arvind Kejriwal has matured as a politician and he knows how to keep his core supporters in good humour. He has emerged as an icon among Muslims of Delhi and this is something that has broken the back of Congress in the national capital.
Arvind Kejriwal's journey during his first year in office can be easily termed as high on rhetoric but modest, if not low, in terms of deliverance.