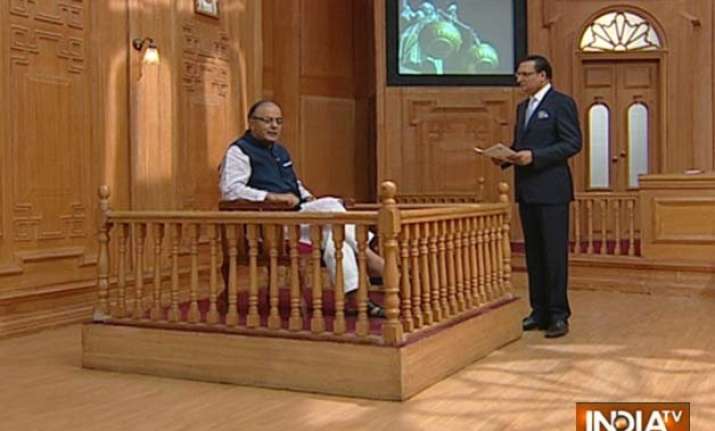 New Delhi: Strongly refuting the criticism that Prime Minister Narendra Modi does not believe in consulting his cabinet colleagues and that he  has concentrated all powers in his hands, Union Finance Minister Arun Jaitley says, Modi is "a hands-on Prime Minister who allows maximum consultation".
Appearing in " Aap Ki Adalat" show hosted by India TV Editor-in-chief Rajat Sharma, Jaitley said, " In a democracy, the Prime Minister always has the last word. I can't deny that Narendra Modi is a strong leader but he is a hands-on Prime Minister who listens to everybody. As is expected in a democracy, his word is final and there is nothing wrong in that. Even in Vajpayee government, everybody was consulted but the PM had the last word."
When asked to comment on  'The Economist' magazine describing Modi as "a one-man band", Jaitley said, Modi can't be compared with his predecessor Manmohan Singh who was portrayed as ' a PM in office but not in power'  by the same magazine.
"For 10 years, we had a Prime Minister who had no actual powers. I have been an admirer of Manmohan Singh for his personal competence, but the Congress never gave him a free hand. Had the Congress allowed him to work according to his competence, the history of India would have been different," Jaitley said.
Buttressing the importance of a Prime Minister wielding real authority, Jaitley said, "The nation can't be run under an arrangement where PM has the designation but lacks actual power. Prime Minister Modi is a very hardworking leader who also expects his colleagues to be equally hardworking."
Rejecting Rahul Gandhi's charge of Modi government being a 'suit-boot ki sarkar', the union minister said that actually it's a 'soojh-boojh ki sarkar'.
"You come up with such arguments when you have no substance in your utterances. In the last one year, it has been proved that this is a 'soojh-boojh ki sarkar'.
Asked to respond to Rahul Gandhi's accusations that the NDA government was trying to snatch farmers' land and hand them over to big corporates because it had taken crores of Rupees from them during election campaign, Jaitley said , "He (Rahul)  has not read either his own party's land acquisition act nor our act. 35 per cent of population in India lives in urban areas while the rest are in rural areas. You need land for urbanization, making highways, irrigation projects, rural infrastructure, etcetera. His act would have stopped the development of rural areas of this country. Even his own chief ministers like B S Hooda of Haryana and Prithviraj Chauhan of Maharashtra opposed the act saying it will bring development of the country to a halt."
Explaining why Modi government brought a new land bill, Jaitley said, "They had exempted 13 areas in their act. We have added 5 more to that list which includes land for national security projects and nuclear establishments, rural infrastructure (roads, electricity, and irrigation) and affordable housing for poor. Tell me, was it to benefit corporates?"
"It's not only the land bill. Congress party is opposing even those bills that they themselves had come up with and the examples are – Real Estate Bill and GST Bill."
When asked to comment on Congress party's charge that PM Modi is busy with his foreign visits when farmers of the country are in distress, Jaitley pointed out that even Manmohan Singh had visited 17 countries in his first year of UPA-I regime.
"Modi's foreign visits have boosted India's image abroad. It has enhanced the stature of Indians living overseas so much so that even David Cameron was forced to say "abki bar Cameron sarkar". India's influence can be felt across the world nowadays. There was a time when only the US took the lead in disaster management. Today India has created a place for itself through its rescue operations in Yemen, Nepal and Iraq."
"As far as the question of farmers is concerned, everybody knows the steps we have taken in their interest. Under Congress regime, they were given compensation only if 50 percent of crops were damaged in case of calamity. We have brought it down to 33 percent. We have also enhanced the compensation amount 1.5 times than what it was during their rule."
Rejecting the charge of crony capitalism levelled against the Modi government, Jaitley said that it was Congress which indulged in corruption to favour a few business houses.
"Congress government allocated spectrum to select industrialists using corrupt practices. The CAG said it was a loss of Rs 1,76,000 crore while a great soul like Kapil Sibal termed it as a case of "zero-loss". The spectrum was auctioned by NDA minister Ravi Shankar Prasad for Rs 1,10,000 crore. They gave 200 coal mines for free. Our minister Piyush Goel has auctioned 32 mines for Rs 2,10,000 crore. You can understand who practised crony capitalism."
On Congress party's charge of Modi government compromising national interest on Arunachal Pradesh, Jaitley said, "Arunachal Pradesh is an integral part of India and there is no question of any compromise on that. When the Chinese President was visiting India, certain incidents took place on border and Prime Minister Modi sternly asked the Chinese to withdraw the army. That's the reason why there is by and large peace on LAC and there is not a single instance of firing reported from the border."
On allegations of Prime Minister Modi insulting opposition parties on foreign soil, Jaitley said that it was meaningless in this era of technology revolution  as criticism made even within the country gets spread all across the world.
"By that yardstick, we should not criticize even on internet as it gets spread outside India. Even criticism made within parliament reaches every part of the world through satellite," said Jaitley.  
Jaitley underlined the economic progress made by India under Modi government despite the international recession.
"Most parts of the world including Brazil, South Africa, Europe , Russia, Japan are witnessing recession. Even the US is once again going through this phase after a period of recovery. China which used to grow by 9-10 % has slowed down to 6.5-7 %. Under these circumstances, it is being said that India is the emerging bright spot and it tells the story," said Jaitley.
Answering a question on One Rank, One Pension for ex-servicemen, Jaitley said that the government has accepted it in-principle. He pointed out that since there are two  views on how to execute it, the  government is now zeroing in on the formulation to calculate the amount.
Jaitley denied that Modi government was taking U-turns on crucial legislations like GST Bill, Land agreement with Bangladesh and FDI in retail.
"On GST, there were differences between 'manufacturing' states and 'consuming' states as the 'manufacturing' states objected to being treated at par with 'consuming' states owing to the huge investments they had made in infrastructure in their respective states. Congress wanted to pass the bill without creating the consensus. NDA govt brought everybody on board on this bill.
"On agreement with Bangladesh, Mamata Banerjee was against Teesta water settlement but now she is on board and will accompany the PM.  Assam government was against land agreement and it was important to being them on board so that there was no agitation in Assam. Without doing all this, political leadership can't move forward on these issues," added Jaitley.
On FDI in retail, Jaitley reiterated that Modi government was still against it.
"We are still against it. It's just that we have not changed the existing policy as a number of changes are taking place in that sector. But it's wrong to say that we are in support of that," Jaitley said.
Defending the alliance with PDP in Jammu and Kashmir, Jaitley said that options for government formation were limited and a vacuum would have given a handle to separatists in the state.
"Despite differences with PDP, we drafted a Common Minimum Programme. This is because the fight in Kashmir is not between NDA and UPA. It's between India and separatists. We tried to ensure that a big part of population comes with us instead of going with separatists," Jaitley said.
Jaitley rejected the charge that the PDP-BJP government released Masarat Alam, a known Pakistan supporter who raised slogans like 'Pakistan meri jaan" and whose release has once again brought back the specter of stone pelting and waving of Pakistani flags in the valley.
"Masrat Alam was given bail by the court. I would request media to understand Kashmir is a sensitive province. It's wrong to say PDP govt released him. The decision was taken before formation of PDP government. One section of separatists has always waved Pakistani flags and we'll keep fighting them," Jaitley explained.
When reminded that despite 'Sabka saath, sabka vikas' slogan of PM Modi, he remained silent on  issues like 'love jihad' and 'ghar wapsi' raised by elements within BJP, Jaitley retorted that  Modi has always taken a firm stand on these issues.  
"The Prime Minister spoke strongly on these matters both within the party as well as during the meeting with Christians at Vigyan Bhawan. In a big country like India, such small incidents will keep taking place but those incidents can't change the agenda of the country," Jaitley said.
Aap Ki Adalat with Arun Jaitley will be telecast on Saturday 10 pm and Sunday at 10 am and 10 pm.