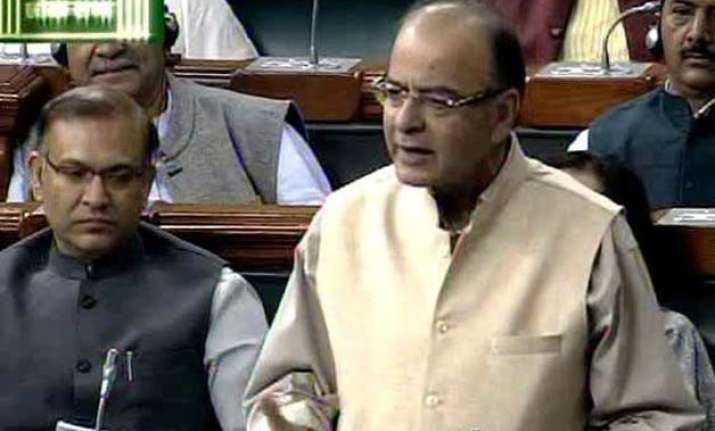 New Delhi: Amid continuing uproar in the Lok Sabha by AIADMK members demanding action against Karti Chidambaram in the Aircel-Maxis deal, Finance minister Arun Jaitley today assured the house that the government had no "holy cows" to protect and that the guilty would not be spared.
Jaitley also dismissed allegations that the government was going slow in its probe in the 'shady deal' which also has alleged links with the 2G scam. "Nobody, absolutely nobody however powerful he is, will be spared, if found guilty," Jaitley said in his statement to the Lok Sabha today, assuring the protesting members of appropriate action against the guilty.
"We have no holy cows to protect. Guilty will not be spared," Jaitley said. Jaitley's comments in the Lower House followed continuing protests in the parliament, particularly by AIADMK members, demanding action from the government against Karti Chidambaram, son of former Finance minister and Congress leader P Chidambaram, over his alleged role of in the Aricel-Maxis deal.
AIADMK members were earlier seen raising slogans like 'NDA sarkar take action' and displaying copies of a newspaper which claimed that Karti has invested in real estate in various countries, as per investigations by Enforcement Directorate and Income Tax authorities during searches at his premises.
The FM informed the house that investigations into the deal were in its final stages and that the matter would soon come up for trial. "The CBI has already filed charge sheet in the matter. As for ED, chargesheet had been filed and on 27/02, court has taken cognisance. The Aircel-Maxis case will now proceed to trial," Jaitley said, adding that it was for the court to decide who will be tried in the Aircel-Maxis case.
While refraining from divulging details into the investigations, Jaitley informed the house that investigative agencies were free to take action of evidence found. "Whatever was stand of previous govt, we have not taken that stand," he said. 

Jaitley also denied the allegations of Congress who blamed the government of indulging in political vendetta, saying that a lot of incriminating things had come up during the course of the probe. "As result of series of raids conducted by the ED and the Income Tax department, a lot of incriminating things have been seized," he said.
Protesting against the Speaker's decision to allow discussion on the matter, Congress members had protested against the SPekaer's decision to allow a discussion on the matter since it was not on the agenda.