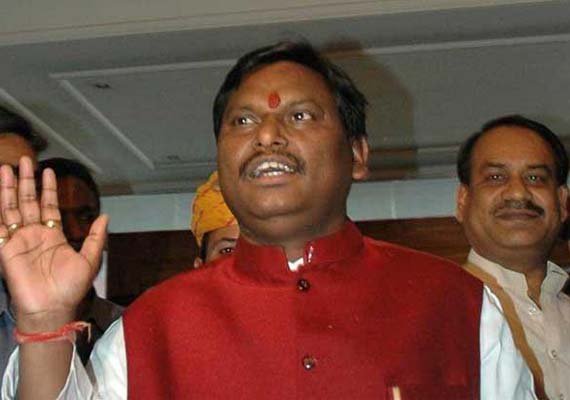 Jamshedpur: Former Jharkhand chief minister and senior BJP leader Arjun Munda Friday demanded resignation of the entire Jharkhand cabinet, if Chief Minister Hemant Soren fails to dismiss the ministers under scanner in different cases.
Accusing Soren for protecting those ministers under scanner, Munda said a minister who had raised corruption issues was dismissed from the cabinet, while some corrupt ministers were being protected by the Chief Minister.  
Asking Soren to maintain dignity of the state cabinet, Munda demanded he should either dismiss the corrupt ministers tarnishing the state's image or quit.
On his recent statement about Jharkhand Vikas Morcha-Prajatantrik supremo Babulal Marandi joining the BJP, Munda said he did not have any objection about any leader joining BJP in the interest of the state and party.  
"In the interest of the state, I have no objection if any political party leader including Marandi joins BJP," Munda said while addressing a press conference after the party's election manifesto meeting here.
"Such leaders are welcome in BJP if they accept the party ideology and policies and are interested to walk along the party for all round development of the state," Munda said.  
"If Marandiji is interested to join BJP, why should I have any objection? The party has to take a decision, which I will obey as a party worker," he added.