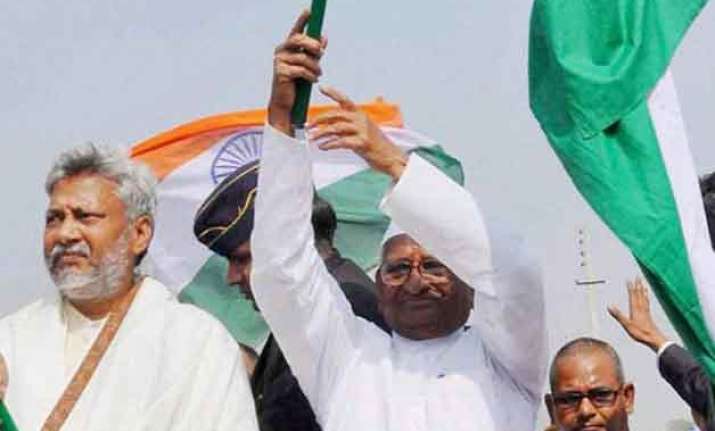 New Delhi: Seeking withdrawal of amendments in the Land Acquisition Act, 2013, social activist Anna Hazare will sit on dharna today at Jantar Mantar. He will hold the protest for two days along with several farmers who have started marching from Palwal, Haryana on Friday.
The Gandhian activist urged the Union government to withdraw the ordinance containing amendments failing  which he has warned of an agitation supported by 20,000 farmers.
Several other social activists like - Medha Patekar, Govindacharya, Rajendra Singh and representatives of around 80 organizations are also likely to join the dharna.
Yesterday Hazare also told a news channel that he has spoken to former Delhi Chief Minister and former 'Team Anna' member Arvind Kejriwal in this context and will meet the latter on Monday to plan the next course of action.
He told the media that Kejriwal and Congress vice president Rahul Gandhi can join the movement if they want but will have to sit among the common workers and not share stage with him.
Meanwhile, the group of farmers who began from Palwal have, reportedly, reached Badkal in Faridabad so far and will join Anna in his protest on Tuesday.
It is learnt that Hazare will reach Delhi from Maharashtra at around 10AM today and will directly reach the venue of the protest.
One of his aides said, "If needed, he (Anna Hazare) will extend the protest and visit other states to garner public support against anti-poor laws."