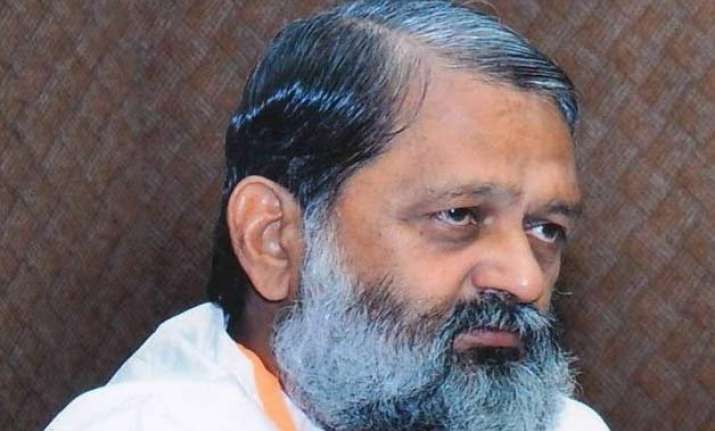 Chandigarh: Haryana's Health Minister Anil Vij today stoked a controversy by saying that he caught a CID officer who has been 'spying' on him.
Vij reportedly caught the CID officer outside his office and registered his protest with state DGP Y P Singhal and senior CID officers about the incident.
Singhal, however, clarified that such personnel are deployed as per standard procedure to keep an eye on people visiting Ministers.
The Health Minister, who was having an informal chat with a group of journalists, was told by a member of his personal staff that a man whom they had spotted on many previous occasions wandering outside the office, was again in the premises. The staff had told Vij that when confronted earlier, he had not revealed his identity.
When contacted, Singhal said, "I told the Minister (Vij) that we deploy security personnel as per standard procedure to keep a watch on people visiting the Ministers." Singhal, however, said that the Minister was not convinced and had already told the assembled media that the person was "spying" on him.
Vij also brought the incident to the notice of state Women and Child Development Minister Kavita Jain, whom he called to his office after the incident occurred.
One of the most senior ministers of the state, Vij has been at the loggerheads with Chief Minister Manohar Lal Khattar. Recently, the differences between Vij and Khattar came out in open when he denied of having any knowledge of actress Parineeti Chopra's selection as brand ambassador of the state.
Parineeti was appointed as the state's brand ambassador for the "Beti bachao, Beti padhao (BBBP)" programme. The programme, a flagship schme by Prime Minister Nraendra Modi falls under Vij's health ministry.