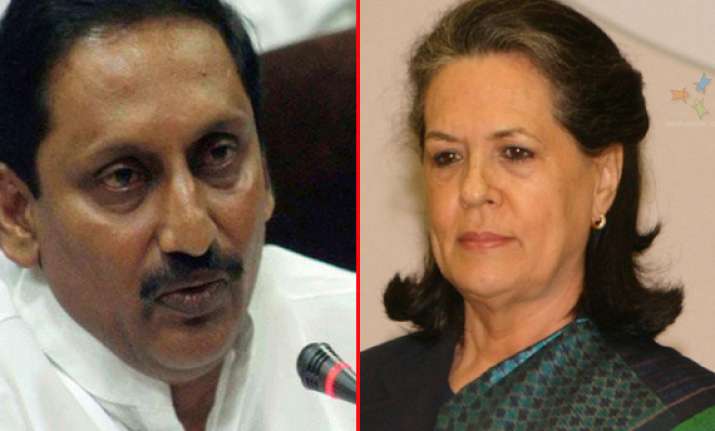 New Delhi/Hyderabad: With the protests against Congress party's decision to bifurcate Andhra Pradesh continuing in Seemandhra for the 22nd day, Chief Minister N. Kiran Kumar Reddy called on party president Sonia Gandhi Wednesday.
During the hour-long meeting in Delhi, he is understood to have apprised her of the situation prevailing in the state in the aftermath of the Congress Working Committee's July 30 decision.
According to party sources, he conveyed to Sonia Gandhi strong views of Seemandhra (Rayalaseema and Andhra) leaders of the party against the bifurcation and his own opinion that the process for formation of separate Telangana state be initiated only after addressing the key issues.
Kiran Reddy is believed to have told Sonia Gandhi that the people of Seemandhra living in Hyderabad, were apprehensive about their future. He also stressed the need to address issues like distribution of river water and electricity.
While making public his views a few days ago, the chief minister had also stated that he was neither opposing CWC's decision nor welcoming it. Kiran Reddy, who was summoned by the party leadership for consultations, met the Antony committee Tuesday to convey his views.
The party has constituted four-member committed headed by Defence Minsiter A.K. Antony to hold talks with party leaders from both Telangana and Seemandhra.
While leaders from Telangana Monday urged the panel to immediately initiate the process for formation of Telangana state, their counterparts from Seemandhra, during the meeting Tuesday night, cautioned the party against going ahead with implementation of its decision.
The Seemandhra leaders including central ministers and MPs made it clear nothing short of a united Andhra Pradesh was acceptable to them and warned that if the party failed to reverse its decision it would face severe drubbing in the next elections in Seemandhra.
Earlier in the day, Congress general secretary incharge of party affairs in the state Digvijaya Singh told reporters that Congress was the last party to take a decision after all other parties supported the demand for separate statehood to Telangana.
He found fault with parties like the Telugu Desam Party and the YSR Congress for going back on their word.
On the demand by a section of Seemandhra leaders for union territory status to Hyderabad, he said the Antony committee would take a decision on all issues raised before it by the leaders.