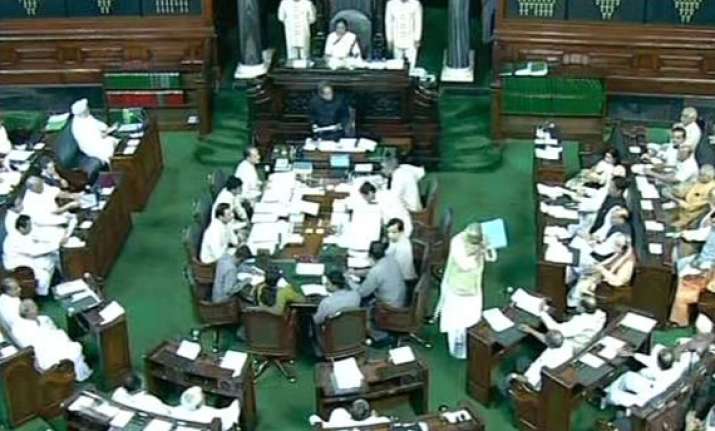 New Delhi, Aug 5: Lok Sabha witnessed slogan shouting by members against the proposal to form Telangana and demand for Bodoland during Question Hour on the first day of the Monsoon Session of Parliament today.
Soon after new members took oath and obituary references were made, TDP members and Congress MPs opposed to Telangana walked into the Well and shouted slogans.    
TDP members, who were also protesting against TRS Chief K Chandrasekar Rao's remarks that officials who hail from Seemandhra but are working in Telangana region will have to go back, were heard shouting "We want justice".    
Congress MPs from Andhra Pradesh opposing Telangana walked into the Well to press for their demand. They carried placards which said, "We want justice for Seemandhra area" and "We want united Andhra Pradesh".    
At one point, TDP member N Sivaprasad walked up to one of the protestors from the Congress with a threatening gesture but was stopped by his party colleagues.    
Bodoland People's Front (BPF) member S K Bwiswmuthiary walked into the Well with a banner that read: "Bodoland MPs strongly stand for a separate state of Bodoland".    
Parliamentary Affairs Minister Kamal Nath tried to pacify the members but could not be heard in the din.    
Speaker Meira Kumar asked the agitating members to go back to their seats but her request went unheeded. After one starred question was taken up amid din, she adjourned the House till noon.    
Earlier when the House met for the day, new members - Prabhunath Singh (RJD), Haribhai Parthibhai Chaudhary (BJP), Vithalbhai H Radadiya (BJP), Partibha Singh (Cong) and Prasun Banerjee (TMC) - took oath.    
Prabhunath Singh demanded Bhojpuri be included in the Eighth Schedule of the Constitution to give it an official status, but the Speaker asked him to take oath in Hindi. 
Lok Sabha also condoled the death of former members, including Mahendra Karma and Vidya Charan Shukla, who were killed in a brutal Naxal attack in Chhattisgarh on May 25.    
The House also paid homage to those killed in Uttarakhand floods and the 23 children who died after consuming mid-day meal in Chhapra, Bihar.    
The Speaker led the House in condemning the Naxal attack in Chhattisgarh, Maoist attack on policemen in Jharkhand in which a Superintendent of Police was killed and the terrorist attack in Srinagar in which eight jawans lost their lives.    
She described these attacks as "cowardly".    
Prime Minister Manmohan Singh introduced new ministers inducted into his Council of Ministers - Sis Ram Ola, Oscar Fernandes, Girija Vyas, K S Rao, E M S Natchiappan, Manik Rao Gavit, Santosh Chaudhary and J D Seelam.       
In the Rajya Sabha, the decision to create Telangana and demand for carving out Bodoland state led to uproar in the House on the opening day of Monsoon Session of Parliament leading to two adjournments before noon.    
Soon after the House paid obituary references, two TDP members entered the Well opposing creation of separate Telengana state.
Biswajit Daimary (Bodoland People's Front) too entered the Well carrying a placard.    
While TPD members raised banners against division of Andhra Pradesh, Daimary held banner that read: "If Telengana, Why Not Bodoland?"    
"I am sorry you can't do this. No banner shall be shown," Chairman Hamid Ansari said to unheeding members, asking them to go back to their seats.
Upset with members not listening to his appeal, Ansari adjourned the House for 10 minutes saying he was forced to do so because of "disturbances created by three members in the well."    
When the House reassembled, similar scenes were witnessed.    
Ansari once again asked the three members to return to their seats.    
However, the members kept shouting slogans in the Well.    
Amid slogan shouting, the Chairman adjourned the House till noon.    
Earlier, DMK Chief M Karunanidhi's daughter M Kanimozhi took oath as a member.