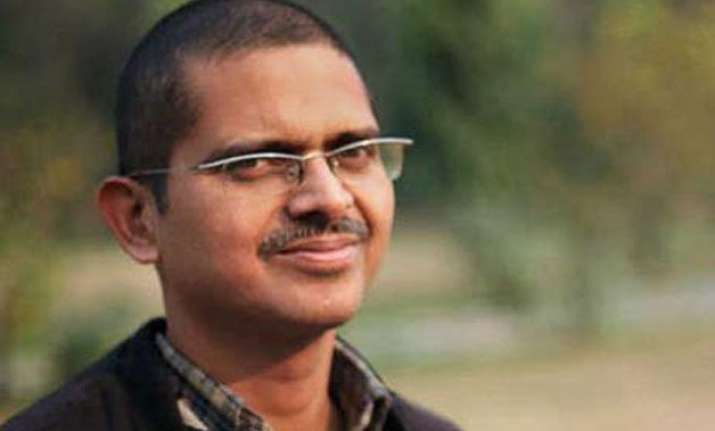 New Delhi: Senior IPS officer Amitabh Thakur on Sunday said that the FIR registered against him by Uttar Pradesh police in an alleged rape case was a "return gift" from Samajwadi Party supremo Mulayam Singh Yadav.
Thakur, posted as IG (Civil Defence) has also sought a CBI probe into the call made to him allegedly by SP chief Mulayam Singh Yadav.
On Saturday, Thakur had filed a police complaint at Hazratganj police station in Lucknow against Mulayam for allegedly threatening him over the phone and released an audio recording of it.
"My only fault was that I made public the audio recording of the threat I had received from Mulayam, and also 'dared' to submit a complaint in this regard at a police station," Amitabh Thakur said at a press conference which he addressed along with his wife Nutan.
He claimed the police had earlier given in writing to the Chief Judicial Magistrate (CJM) and the High Court that the charge of rape was fake. The FIR is based on a complaint of a woman dating back to December 2014.
"On January 17, at about 7 pm, my wife Nutan received a call from a newspaper to get our side of the story on a rape complaint submitted with the state women's commission," he said.
Thakur added that he had presented several instances and documents "questioning the complaint and the FIR".
On July 9, Nutan submitted a police complaint against Mining Minister Gayatri Prasad Prajapati, state women's commission chairperson Zarina Usmani and six others accusing them of "framing" her and her husband in "fake" cases. An FIR was registered against them based on her complaint.
A day later, Mulayam allegedly called up Thakur asking him to "mend ways" or face consequences.
Thakur said he now feared an attack on his life, and has sought security cover for himself and his family, claiming that he could "be killed or sent to jail."
IPS officer Thakur to meet home ministry officials in Delhi
His wife Nutan said that they are petitioning the ministry to provide them security by central forces as they had lost faith in the state police.
Thakur and his wife are behind a slew of public interest litigations (PILs) against the government and have been targetting mining minister Prajapati.
The SP leadership has termed the allegations levelled by Thakur and his wife as "baseless and frivolous".
"Mulayam Singh Yadav has had an impeccable public life for 60 years and is not used to such language or behaviour," a statement by party spokesman Rajendra Chowdhary said.