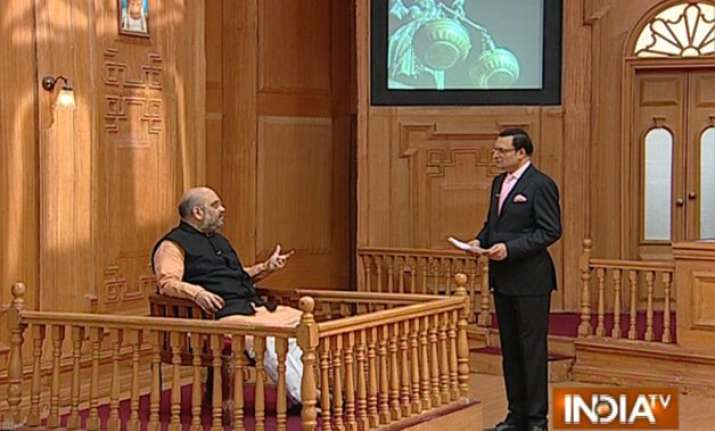 New Delhi: BJP president Amit Shah has said, government would spend the entire proceeds from seizure of offshore black money on welfare programmes for the poor and there was no question of transferring Rs 15 lakhs into each person's bank account.
Replying to questions in Rajat Sharma's Aap Ki Adalat show on India TV to be telecast tonight, Shah said: "Modiji had said (during his poll campaign) that the entire black money stashed offshore, if divided, could amount to Rs 15 lakhs per person, but that does not mean that this amount will be deposited into each person's account. What he meant was:  the black money recovered would be spent on the welfare of the poor. When leaders speak at public meetings, they often become emotional, but their statements should not be taken with 'full stop, comma and all'. (What Rahul Gandhi is saying) depends on his outlook, but I can say this much: how can Rs 15 lakhs be transferred to each person's account from government treasury? The government had said, and it stands by its commitment that all the black money recovered will be spent on plans for the upliftment of the poor."
(Pradhan Mantri Modiji ne kaha tha ki videshon me itna kaal dhan hai ki agar usko divide kar diya jaye toh har vyakti ke hisse me 15 lakhs rupaye aayega. Iska matlab kisi ke bank account me jama nahin hota. Unka kahne ka taatparya yeh tha ki jitna kaala dhan aayega, woh garibon ke hit me sarkar upyog karegi. Neta jab bhashan dete hain emotionally woh jo bolte hain, uska is tarah full stop, comma me meaning nahin nikalta hai. (Q: Rahul toh roz kah rahe hain) woh unki samajh pe depend hai. Mai itna kah sakta hoon ki sarkar ke khazaane se kisi ke account me 15 lakh rupaye kis tarah ja sakta hai? Sarkar ne yeh kaha tha aur aaj bhi commitment hai ki isme koi vaadakhilaafi nahin hai, jitna abhi kala dhan wapas aayega woh is desh ke garibon keliye yojana banakar kharch hoga)
On the Dadri lynching incident, Amit Shah hit out at the UP government and blamed its police for what he called "unilateral action", which he said, was causing friction between communities.
"If the UP police acts without any religious discrimination, then no such riots, no such incidents will take place in UP. But if, in order to garner votes, the police takes unilateral action, then there is reaction in both communities and that's the reason why such incidents happen. "
(UP police dharma ke aadhar par bhedbhaav  kare bagair kaam kare, toh koi danga, koi aisi ghatna UP me bhi nahin hogi. Magar vote prapt karne ke liye police ektarfa karrvayi karegi toh donon samudayon me reaction hota hai aur isi ka karan hai ki aisi ghatnayen hoti hai)
Shah also questioned why the "media lacked the courage" to criticize the Samajwadi Party government on the Dadri lynching incident.
"The media wholly blamed the BJP for the Dadri lynching incident, but tell me, which party is governing UP? Samajwadi Party. Whose subject is law and order? Centre or State?  Then why nobody is questioning SP, and only the BJP? I couldn't understand the media's stand on this, because the controversy originated from there. Nobody had the courage to seek the UP chief minister's resignation, nor the media had the courage".
When Rajat Sharma asked why a Union Minister (Mahesh Sharma) went to Dadri and described the lynching as  'hadsa' (accident), Shah replied: "That was a slip of his tongue. (Unki zabaan fisli hai)...Let me ask: who first went to Dadri? Rahul. Then Kejriwal went there. What had he to do with UP? Then Owaisi went there. What had he to do with Dadri?  It was Mahesh Sharma's constituency. Had he not gone there, I would have taken him to task. As the local MP, it was his duty to go there and stand by the victim's family. A word came out of him, and they made a mountain out of a molehill (baat ka batangad bana rahe hain).."
On writers returning their Sahitya Akademi awards, Amit Shah said, the writers and literatteurs were returning their awards because of incidents that took place in UP and Karnataka ruled by SP and Congress respectively. "All the writers returning their awards are protesting against Congress and SP governments".
When Rajat Sharma pointed out that eminent writer Nayantara Sahgal had questioned the Prime Minister's silence on the issue, Shah replied: "The PM has spoken on Dadri. And yet they are resigning. There are many among the writers, who had signed an appeal during the Lok Sabha election not to elect Modi to power. Now if the people of India elect us, what can we do?...The perception (about growing intolerance) is only limited to Lutyens Zone. Had such incidents taken place because of BJP, RSS or VHP, then why are there no protests in Gujarat? In MP, Rajasthan and Goa? We have our governments there and protests there could have suited them better. But here votebank politics is dominating law and order. That's the reason why there is growing tension in both communities. And such incidents take place because of tension."
On the ongoing Bihar assembly polls, Amit Shah categorically said that "a Bihari from BJP would form the government in Bihar" (BJP ka Bihari Bihar sarkar chalayega). He also clarified that the party has not decided who the leader would be, nor his caste.
When Rajat Sharma said, BJP's campaign appeared to be a marriage party without a groom, Shah said: "No, it is not so. Several times BJP fights elections on the basis of teamwork and elected its leader later and we got good results. In Maharashtra, we did not project anybody as CM, and Devendra Fadnavis is doing a good work there. In Jharkhand, we did not project anybody, and Raghubar Das' government has performed very well. We have very good and experienced leaders in Bihar, who can give the state a good government."
On BJP's ally Jitanram Manjhi claiming that Modi had publicly indicated about him as CM, Shah replied: "Manjhi ji has the right to speak on behalf of his party. As far as BJP is concerned, we have not given any such indication, nor have we decided on a name."
Shah admitted that the issue of development took a back seat when the issue of beef was raised in Bihar polls. He however blamed RJD supremo Lalu Prasad for raising the beef issue.
"Lalu ji was the first to raise the issue of beef when he said there was no basic difference between beef and mutton. Naturally BJP will raise this issue, because it hurts the sentiments of people in large sections of the country. It was Lalu who raised this first because of votebank politics, and once you open up a dam, can you calculate how far the water will flow? Today they are caught in that. They should have thought about it while breaking a dam."
BJP president Amit Shah in Rajat Sharma's show Aap Ki Adalat will be telecast tonight (Oct 24) at 10 pm and the repeat telecasts will be on Sunday (Oct 25) at 10 am and 10 pm.