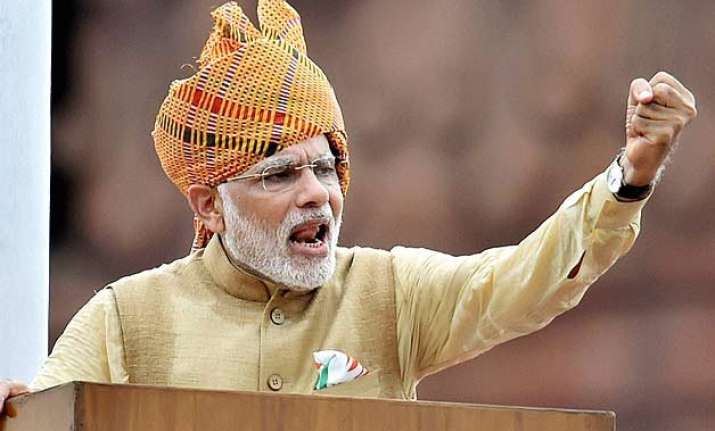 New Delhi:  Seven decade-old Agriculture Ministry will be renamed as 'Agriculture and Farmers' Welfare Ministry' with a view to take care of the farming community's needs as well as the personal problems faced by them, Prime Minister Narendra Modi announced today.  
Addressing the nation on the 69th Independence Day, Modi stressed on the need to increase agricultural productivity and said the government is making efforts to boost crop yields.  Emphasising on the welfare of farmers for overall growth of the agri-sector, he said the government will rename the present Agriculture Ministry as 'Agriculture and Farmers' Welfare Ministry'.
Modi emphasised that rural and agricultural development can only be complete when welfare of the farmer is also ensured. He said the government will formulate schemes keeping in view some of the personal problems that are faced by the farmers.
The Prime Minister said besides schemes for development of agriculture in the coming days, there will also be schemes for development of farmers and the government will work in the direction of addressing problems faced by the farmers in their personal lives.
Pre-independent India had a combined Department of Revenue, Agriculture and Commerce set up in June 1871.  In 1881, the Department of Revenue and Agriculture was reconstituted as separate departments, but in 1923, the departments of Education and Health were combined with it to form the 'Department of Education, Health and Lands'.  
In 1945, it was trifurcated into three separate departments of Agriculture, Education and Health.  The Department of Agriculture was re-dedicated as the Ministry of Agriculture in August 1947.

Modi highlighted that the government has allowed 100 per cent production of neem-coated urea to check diversion of this key nutrient to chemical industry and asked farmers to use only neem-coated urea.
He said the introduction of "neem-coated urea" has helped to end diversion of subsidised urea to non-agricultural purposes.
Modi said the government is reviving closed urea plants, including those in eastern parts of India.  That apart, a Soil Health Card scheme has been launched under which the Centre plans to target over 14 crore farmers in the next three years to check the excess use of fertilisers.