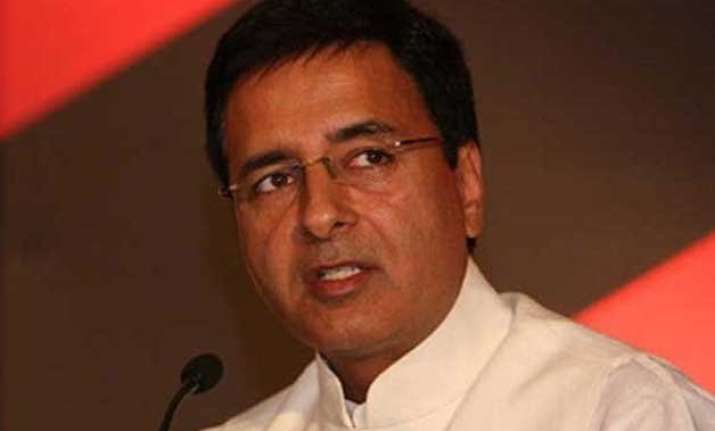 New Delhi: After the Land bill, the issue of environment protection is set to see confrontation between the government and the opposition with Congress rejecting the TSR Subramanian Committee report as "abominable exercise" to dismantle the regime of sustainable development.
"Having bulldozed the Land Acquisition ordinance aimed at grabbing the land of hapless and marginal farmer, BJP government has now set in motion the abominable exercise of dismantling the carefully crafted regime of environment protection," Congress communication department in charge Randeep Surjewala told reporters.
He claimed that the "principal agenda" of the just concluded Environment and Forest Ministers Conference was to secure the "tacit approval" of the states to the dismantling of the regime of sustainable development, tribal rights and equitable social development.
"This report seeks to hit at the very base of a series of Acts including the Environment Protection Act, Forests Conservation Act and Wildlife Protection Act," he said alleging that this was being done by Prime Minister Narendra Modi to "appease a handful of crony capitalists".
Taking a dig at the Prime Minister, he said that protection of environment cannot be wished away by "Dadi-Nani storytelling" but has to be stoutly preserved, cherished and protected for generations.
The obvious reference was to the Prime Minister while speaking at the Conference, recalling that in villages, there was a tradition during the full moon. Grandmothers used to make kids thread needles in the moonlight. We are now so cut off from nature.
He alleged that the Subramanian Committee report prepared in just 60 days was being utilised to disregard Constitutional provisions, carefully deliberated and tested laws, National Environment policy as also international treaties and UN Conventions.
Raising a series of questions to the government, he said the TSR Report seeks to remove all environmental regulations in favour of "over riding good faith" compliance undertaking by the industrialists applying for environmental clearance.
Noting that TSR Report proposes to classify an area as "no go area" only on the basis of 70 per cent forest cover, he wondered whether does it meant diversion of all dense forests having lesser cover.